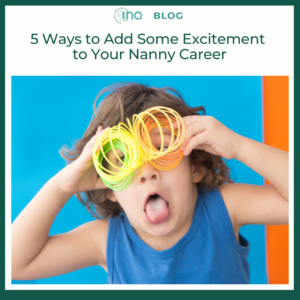 Being a nanny is an exciting job – you are tasked with seeing little ones grow up and discover who they are, and that is something very special to be a part of. If you want to make your nanny profession even more exciting, here are some tips.
#1: Work on not just being a nanny, but being a mentor, too.
Many nannies become a prominent adult figure in a child's life and often serve as role models and mentors for many years. So, as you care for the children under your watch, be mindful of ways you can set a good example. Acknowledge when you make a mistake, model what respect and forgiveness looks like, and communicate with the children at a level and tone that builds trust. Show the kids that living life with integrity is important to you and model how you do this. Over time, they will see this as a positive example of how to treat people around them and handle various situations, and they will hopefully want to copy that. There's truly nothing more exciting than seeing kids doing great things for each other.

#3: Travel.
Have you always wanted to travel? Maybe you have put traveling on the back burner to establish your nanny career. Traveling brings a sense of excitement and wonder, as you open yourself to new cultures and experiences. Want to travel and still be a nanny? There are many different nanny jobs out there that require traveling with the family for portions of the year. This type of job could be a great fit if you want to combine your love of adventure and your passion for caretaking.
#3: Learn something new.
There's nothing more exciting than learning a new hobby, or honing skills that might be buried deep within you. Take a class to learn something new, or do some research on how you can gain more credentials or training to help you level up in your nanny profession.
#4: Put the phone down.
Sure, there might be exciting things happening around the world that you want to keep up on but being intentional about putting your phone away gives you the opportunity to fully engage with the kids. Whether it's playing a board game, taking a walk around the neighborhood to the park, or making cookies together, living life and experiencing the precious moments together brings excitement that can't be replicated.
#5: Focus on creativity.
If you want to add some excitement to your own life, but also the lives of the kids you care for, work on being more creative. Do some research on what new creative things you can learn together. Maybe it's a craft or perhaps it's something bigger like creating a day of caring for those around you. Creativity sparks excitement.