Education is core to the INA Mission. We continue to develop webinars based on the needs of the entire industry.
 All opinions and information given during an INA webinar are that of the presenter and do not necessarily reflect the views of the INA.
If you are interested in presenting a webinar to our audience, please use this form to apply.
Stay tuned for details about our next Professional Webinar. 
Professional Webinar Series
The goal of this series is to bring professionals from outside our industry/membership to share their knowledge and expertise with us through Zoom webinars. It gives the INA an opportunity to connect with professionals outside the membership and foster mutual learning – guest speakers will share their expertise with INA members or the community in general while INA also teaches them about INA's work. Recordings of these webinars are found in your INA Member Portal under "Member Documents" and "Member-Only Videos".  More Webinars are being added all the time to the member portal.
Here are some examples of the past webinars that are available to INA Members.
Advocacy and Policy Making

Anxiety in Children

All About SEO

Cyberbullying

Dialogic Reading

Kiss Burnout Goodbye

Managing Holiday Stress Mindfully
My Home is Someone's Workplace

National Domestic Workers Alliance

Post-Natal Depression in Men

Parenting by Human Design

The Specialty of Special Needs

Consent in the "Classroom:" How to Model and Teach Consent to Children in Every Setting
Collective Expertise Series
The goal of this series is to provide a space for professionals within our membership to formally share their expertise. Those who host webinars through this series must be an INA member and allow presentation to be recorded and distributed to the general public through INA's Youtube channel. Those who wish to apply to present must submit form for approval by the committee chair and demonstrate relevant knowledge in proposed topic along with suitable credentials for teaching it. Follow the links below to watch past webinars in this series.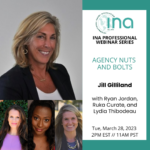 INA Webinar Agency Nuts and Bolts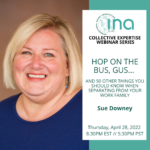 Hop on the Bus Gus... and 50 other things you should know when separating from your work family
Conversation about Body Positivity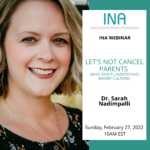 Let's Not Cancel Parents who don't understand nanny culture
Working with Older Children
Culture Shift; Cultivating authentic and inclusive change in your business
This series was developed to support and educate the public during the COVID-19 Pandemic. All webinars in this series are open to the public and the recordings are as well.
Advocating For Yourself + Best Practices During A Pandemic
Are You Ready for the COVID Baby Boom?
Education in the COVID Era
Keeping Older Children from Boredom
Insights and new Beginnings A COVID Panel
How to Bring Mindfulness Into Your Nanny Families' Lives
How to Embody The Mindful Nanny Role
How to Navigate and Survive in a Situation Like This
US COVID Relief – How will it Affect You?
What does it mean to be a Mindful Nanny?
Working When Parents are Home
Check out all the webinars in our Diversity Series. The International Nanny Association is committed to serving a diverse, inclusive, and equitable community where all in our industry feel respected. We want to make sure that no matter what an individual's background they are seen and appreciated regardless of their race, ethnicity, gender, identity, sexual orientation, age, national origin, disability, education, or any other individual orientation. Read more about INA's commitment to Diversity. 
Ally vs. Accomplice – How Can I Use My Privilege to Enact Lasting Change
Handling with Racism on the Job
Imagination and Practical Skills for the Road
Roots in Context and Our Current Reality
Taking a Look at Unconscious Bias: The Path to Unlearning
You might also be interested in our Recommended Practice and general videos.
Online Recruiting Platforms
INA Mission, History, and Member Categories
INA's Commitment to Professional Excellence
International Nanny Association Member Benfits