Do You Know a Nanny Who Is Outstanding?
You are invited to have a positive, lasting impact on the nanny's career by nominating them for the 2022 Nanny of the Year™ (NOTY™) award. The NOTY™ award is presented annually by the International Nanny Association (INA) to recognize the personal achievements of a working nanny. The 2023 INA NOTY™ honoree will be announced in May 2023 at the INA Conference in Orlando, Florida.
Introducing INA's 2022 NOTY™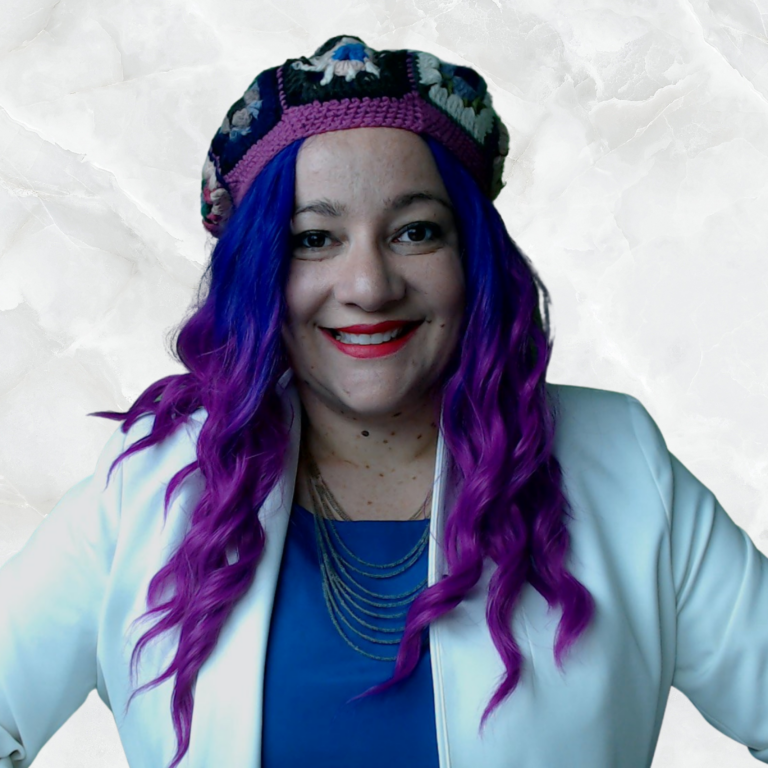 The International Nanny Association is pleased to introduce you to the 2022 Nanny of The Year™, Thaty Oliveira.
Thaty, MEd, MM, is a renowned educator who has received several awards for her work in the nanny industry. She holds numerous credentials, the most recent being the Certificate in Early Education Leadership program at the Harvard Graduate School of Education. Thaty has been interviewed by The Conversation on BBC, Boston Globe, NY Times, recognized by The City of Cambridge, both the Boston and the National Association for the Education of the Young Child, The Brazilian Community Heritage Foundation, just to name a few.
As a professional career nanny of nearly two decades, Thaty is passionate and dedicated to not just the littles under her care but also the families she serves. She loves preparing, guiding, and supporting parents in the exciting journey of raising incredible children and the opportunity and honor to be part of that journey. Thaty's favorite thing about working as a nanny is seeing and experiencing the world for the first time, many times, through the eyes of different children she gets to spend her days with. Even after officially becoming an entrepreneur, launching her teaching and consulting business a few years ago, Thaty makes it clear she has no desire to stop nannying for the foreseeable future.
A fierce, well-known advocate, leader, and pillar in the industry, Thaty's engagement is deep and broad. She's involved in numerous projects providing support and professional development for nannies around the globe while also actively exercising her civic duties by engaging in conversations with elected officials about policies that impact childcare and the domestic work industry.
Thaty received the 2022 NOTY™ on April 2, 2022 the the INA's Annual Conference in Las Vegas, Nevada. 
Who: Individuals eligible for nomination must be currently employed full time as a nanny, newborn care specialists, or specialty nanny. The nanny selected will be a professional caregiver who is a genuine advocate for children and a person who has enriched the lives of the children in his or her care.  This year's eligibility requirements can be on this page under Eligibility Requirements. 
What: The nanny selected will be presented with the NOTY™ honor during INA's upcoming annual conference. The individual selected will serve as a positive role model for the in-home child care industry and our association. The INA NOTY™ will make themself available for media interviews and will contribute articles for INA INA Blog that talk about their INA NOTY™ experience, or on another topic relevant to INA caregiver members.
When and Where: The award will be announced and presented at the 2023 INA Conference, May 4-7, 2023 in Orlando, Florida.
Attendance at the annual conference is no longer required but it is encouraged. If the selected 2023 NOTY chooses to attend the conference, they will be offered a free Conference Registration and 3 nights at the conference hotel. If they are not able to make it in-person, they will be asked to help us produce a video that will be played at the conference and on social media introducing the Award Recipient. The outgoing NOTY will also not be required to attend the conference but will also be asked to work with us to put together a video introduction.
Evaluations: All Evaluations are completed by a Selection Panel consisting of 5 industry individuals. They are completed in 2 Phases. Phase 1, which is worth 70% of the score, is a completely blind evaluation where the evaluators do not know who each candidate is. Phase 2, which is worth 30% of the score, is started after Phase 1 is completed and allows the Selection Panel to see interviews, social media, images, and publications of the Nominees. The winner is selected based solely on these numerical evaluations.
Updates for 2023:
The INA is now offering Nanny of the Year Nominees the chance to pay for one year of the nominees INA Membership. INA Membership at the time of nomination is required so if the childcare professional being nominated is not currently an INA member, it is recommended that the membership be gifted in this way to ensure the individuals eligibly.  
Nanny of the Year Timeline
July 22, 2022
Nominations open via online

FORM

. 

The INA Board will find diverse Selection Panel members based on this page under Selection Panel Requirements. 

October 17, 2022
Nomination applications deadline. At this time, the office will confirm eligibility. 

October 20, 2022
Nominees will be informed and given access to the digital NOTY™ Portfolio. They will be given until January 5, 2023 to complete the portfolio. 

A preliminary list of Selection Panel members will be created at this point and sent to the NOTY Nominees so they can disclose if they have any personal or professional relationship with these potential NOTY Selection Panel Members. 

The Board of Directors will finalize the Selection Panel during this time. 

January 5, 2023
All digital Portfolios are due by this date. 

Recorded Nominee Interviews will begin at this point. These interviews are recorded on the INA Zoom account made available to the Selection Panel during the Phase 2 of the evaluation. 

The office will also compile all submissions and redact identifiable information from the NOTY™ Portfolios and Nomination Form. 
February 5, 2023
The Selection Panel Members will be sent the needed documents and given until February 26th to submit the Phase 1 (blind) Evaluation Form. 

The office will begin to compile NOTY™  Nominee bios and headshots in order to share these at a later date. 

February 26, 2023
The Selection Panel completed all Phase 1 Evaluations and are given all Phase 2 documents for evaluation. They have until March 13th. All NOTY™  

Nominees will be publicly introduced via INA Blog, social media and email around this time.

March 13, 2023
Phase 2 Evaluations are done. 

The NOTY™ Committee and office will tabulate the averages. 

The top 5 candidates will be named NOTY™ Finalists and all those not selected as finalists will be informed. 

All individuals named NOTY™ Finalists will be asked to complete a background check. 

March 27, 2023
Background checks should be complete at this time however if background checks are delayed, this and all subsequent deadlines could be delayed as well. 

Plans will be made to inform the selected 2023 Nanny of the Year™. 

NOTY™ Finalists are introduced to the public via the INA Blog, social media, and email around this time.

April 1, 2023 
The 2023 NOTY™ and all runners-up will be informed by this time.

The 2023 NOTY™ will begin preparing. 

May 1 –  7, 2023
The 2023 INA Nanny of the Year™ will be announced via live video the week before conference.

If the NOTY is present, they will be recognized in-person. If the 2023 NOTY is not present, they will be introduced via video during the ceremony.

All NOTY Finalists present will also be introduced at the Conference.
All individuals that are nominated and are found to be eligible will be considered NOTY™ Nominees. Once evaluations are completed, all NOTY™ Nominees will be publicly introduced. 
The 5 NOTY™Nominees who have the highest scores will be named as NOTY™ Finalists once background checks are complete. 
The top NOTY™ Finalist will be selected to be the INA 2023 Nanny of the Year™.
To be eligible as a NOTY Nominee: 
Be a current Member of INA by the NOTY Nomination Deadline. 

Have a minimum of 5 years of experience as a Nanny, Newborn Care Specialists or Specialized Nanny (Traveling Nanny, Governess, Temporary Nanny, Resort Nanny, AuPair or other Childcare Professional) in the in-home child care industry.

Be currently employed full-time in this role. "Full-time employment," is based on the US Fair Labor Standards Act and is defined as working 40 hours in a seven-day period, or a minimum of 2080 hours per year. Please note that if you work for or own a business in addition to working as a nanny or ncs, you must be currently working full time as described above as a nanny or ncs in addition to the time you spend working for the business. 

Be legally able to accept employment in the country of current employment. 

Be legally paid as defined by the country of current employment.

Be nominated by someone other than yourself.

NOTY

™

Nominees are encouraged, but not required, to take the INA Nanny and/or NCS Credential Exam. 
Provide a high-quality headshot and bio (max 150 words) written in 3rd person.
**Please note: NOTY™ Nominees and winner are no longer required to attend the Annual Conference
To be selected as the NOTY™ Finalist you must:
Meet all criteria in the selection above. 

Complete your digital NOTY™ Portfolio and comply with all instructions given to you by the INA office by the given deadline. 

Truthfully respond if you have a personal or professional relationship with any of the potential Selection Panel members. 

Provide 4-5 additional images to use for video introduction and announcements. 

To keep their nomination a secret until the INA announces.

Receive one of the top 5 scores from the NOTY™ Selection Panel based on criteria on page 10 of this information packet. 

Submit to and pass a full comprehensive background check with no felony record. This background check may include a driving record.

To be selected as the 2023 Nanny of the Year™ you must: 
Meet all criteria in the 2 sections above

Receive the highest score from the NOTY™ Selection Panel based on the NOTY criteria which is listed in the Assessment Criteria section of this page. 

Keep the fact that you have been chosen as the 2023 Nanny of the Year™ a secret until the INA announces this news.

Agree to accept the NOTY™ virtually or in-person providing images and giving an acceptance speech. 

Be able to fulfill the duties and responsibilities outlined in the Responsibilities section of this page. 

Agree to participate on the NOTY™ Committee the following year by conducting the new NOTY interviews virtually and introduce (in person or virtually) the following Nanny of the Year. 

Become knowledgeable about the INA, such as, but not limited to: Recommended Practices, Exams, Assessments, Commitment to Professional Excellence, 

Be able to clearly express the benefits of belonging to INA.

Present the INA office with a list of media outlets (newspapers, television stations, radio stations) in the area where the Nanny lives and/or works.
IF ATTENDING THE CONFERENCE: Obligations during the INA Annual conference 
All NOTY™ Finalists must
Conduct his or herself in a professional manner, in appearance (business casual) and actions.

Attendance at the INA's 2023 Annual Conference is not required but highly encouraged. 

2023 Nanny of the Year™ must also: 
Attendance at the INA 2023 Conference is no longer required but highly recommended. If they do attend, we ask that they be present at  conference workshops and assemblies socializing with attendees during scheduled networking breaks and social functions. 

Be available and visible to attendees and press during the INA annual conference.

Be aware that although they are

not

the official spokesperson for INA, when speaking to the public, the INA Nanny of the Year™ represents all nannies and the INA—rather than their personal views.
Note: If the 2023 Nanny of the Year™ chooses to attend the INA Conference, their registration cost will be refunded and 3 nights of the INA Conference Hotel will be covered. All Candidates should make hotel reservations. NOTY Nominees are welcome to invite friends and family to the NOTY™ Celebration but must register and pay for their meals through the INA office. 
AFTER the Award is Received: 
2023 INA Nanny of the Year™ will be expected to: 
Send thank you notes to all those individuals and businesses that donated gifts or monetarily to NOTY™.

Be available to the media in the coming year.

Be aware that while serving as INA's 2023 Nanny of the Year™, their conduct and comments about nannies, ncs, and the industry can impact all involved in the in-home child care industry.

Be available to serve on the NOTY™Committee the following year (2024). NOTY™ recipients are asked to interview the following year NOTY™ Nominees. 

Submit content to the

INA Blog

. Articles, updates and photos are welcomed and encouraged. 

Be willing to encourage other nannies to join INA and become more involved in enhancing the in-home child care industry.

Encourage others to nominate someone for the NOTY™ in the coming year.

Either be present at the next year's NOTY™ Award Ceremony or provide a video of congratulations to the next year's recipient. 
Nomination Form Step-by-Step Guide
Anyone wishing to nominate a nanny, ncs, or specialty nanny will need to fill out a SIMPLE FORM with the following information. 
Step One – Give basic information on yourself as the nominator including name, email address, phone number, time-zone and your relationship to the person you are nominating.
Step Two – Give basic information on the person you are nominating for INA Nanny of the Year™ including name, email address, phone number, time-zone, length of time as a full-time nanny. 
Step Three – Provide the INA with an essay stating why this person should be the INA Nanny of the Year.™ 500-1000 words. Please include thoughts on the candidates:
Contribution to child development (physical, emotional, social, creativity, and language if applicable)

Ability to adapt to changes. Demonstrate how the nanny has worked to meet the needs of the family, cope with special problems or challenging events. 

Contribution to the childcare profession. Explain how the nanny has been involved in working with children or the in-home childcare industry outside of his or her job. 

Professional and educational achievements including training, continuing education, years of experience working with children and continuing investments in his or her profession.  
Step Four –  Answer yes to each of the questions under the Attestation section then submit the form.
Step Five – This step is not required but you can purchase a year membership for the Childcare Professional you are nominating. Eligibility for the INA Nanny of the Year includes that the individuals MUST be a current INA member. If you are unsure if the person you are nominating is a member or you just want to give them a gift, you will have a chance to purchase that membership in the nomination form. 
Once complete, you can expect to hear from the INA within 2 weeks. Please contact the INA office if you have any questions. memberservices@nanny.org
Digital Portfolio Step-by-Step Guide
All Nominees will receive access to the digital NOTY™ Portfolio through their INA Member Portal and must fill it out with the following steps. 
Step One – Questions
Answer the basic questions about social media links, details on nanny career, credential exams, hobbies, interests, professional goals, and special skills.
Step Two – Cover Letter
In 500 words or less please write a letter to the NOTY™ Selection Committee explaining what being a nanny means to you, how your career has impacted the children in your care, why you should be selected as the NOTY™ award recipient and what it would mean to you to receive this honor.
Step Three – Education
Explain what completed education you have. High School, GED, College, Technical School, Diploma Programs, Bachelors, Masters or Doctorate Degrees. 
Step Four – References
Give the INA 3 references of individuals who have first-hand knowledge of your experience caring for children. We will need their name, email, phone number, time-zone, and relationship to you. 
Step Five – Essays
You will need to write 6 essay questions with a maximum word count of 250 words each.
Why do you choose a career with children? 

What are 3 qualities about you that make you an excellent nanny? Describe how each of them affect your role in the lives of children. 

If you could see change within the industry, what would it be and why? 

How do you stay current with professional childcare topics, such as development/milestones,  safety, parenting strategies, children's literature, products, special needs, etc? 

What is the extent of your involvement in the child care industry outside of your job? 

Tell us your thoughts on the role of social media in your career as a nanny.  Please include both positives and negatives to the use of it in your career. 

Step Six – Work History
Please provide the following information for each family you have worked for in your career as a nanny.
Family name (or label this job if NDA prohibits you from giving names)

Start Date and Finished Date

Basic days and hours worked

Age of children cared for in this position

Step Seven – Certificates and Documentation
Please provide the INA with PDF's of earned certificates or other documentation you want to share. Suggested sources for certificates or documentation:
Diploma or certificate from the most recent educational source

Professional development training programs or sessions

Industry-related associations or organizations to which you belong/belonged

Conferences or workshops you've attended

Step Eight – Letters of Recommendation
Please provide letters of reference or recommendations from past employers, nanny placement agents, or individuals who witnessed your dedication and commitment to both personal and professional excellence. While these letters may be from the individual references given to the INA in this portfolio, letters from other references are strongly encouraged. 
Step Nine – Images
Please include photos that capture you in your life as a nanny. Please be sure to get written permission to use in your submission from the parents of any children in the pictures.  If your current or past employers prohibit reproduction of pictures featuring you and their children in your work environment, please be sure to alert the NOTY™ Selection Committee in writing.
Step Ten – Attestation
Please answer yes to the questions provided.
The evaluation of the INA NOTY™ Nominees will be divided into 2 Phases. Assessment criteria is below. 
Phase one Evaluation: 
This evaluation takes place after the Nominees have completed their digital portfolio. This is a blind evaluation meaning the Selection Panel will not see any identifiable information on each nominee. 
Performance – 40%

Quantity of experience (beyond 5 years) – 10 points

Breadth of experience (ages, specialization, etc) – 10 points

Volunteer Involvement in Nanny Industry – 10 points

Childcare-related Education, Training/Certifications +/or Credentials – 10 points

References – 30%

Professionalism as cited by the Nominator – 10 points

Reference #1 – 5 points

Reference #2- 5 points

Reference Letters within the Application Portfolio – 10 points

Phase 2 Evaluation: : This takes place after all Selection Panel complete Phase 2 evaluation and submit their scores. This is an open evaluation meaning that selection will see the names, images, and other identifying information. 
Presence – 30%

Application Portfolio – Content (quality, appropriate & completeness of answers) – 5 points

Application Portfolio – Confidence (presence, personality, comfortability) – 5 points

Interview – Content (quality, appropriate & completeness of answers) – 5 points

Interview – Overall presence (confidence, personality, comfort) – 5 points

Overall professionalism as cited by the Selection Committee Volunteer – 10 points
Selection Panel Requirements
The Selection Panel will be made up of 5 individuals including nannies, nanny business owners, business staff, educators, and nanny employers. A conscious effort will be made to provide a diverse and inclusive group of individuals in the industry. 
Selection Panelist have the following requirements:
Be a part of the nanny industry in some way (nanny, ncs, placement agency, educator, industry service provider, business staff, or nanny employer)

Have integrity, are intuitive, and inclusive.

They must have no direct connection to any of the NOTY™ Nominees. This will be determined before final selection is made by informing the NOTY Nominees the individuals on a preliminary list. 

Be willing to spend the following time in February and March of 2023. 

Phase 1 Evaluations: 10-20 hours (depending on how many NOTY™ Nominees there are) reading and evaluating the NOTY™ Nominees cover letters, nominations letter, essays, letters of recommendation, and other provided information then filling out the Phase 2 Evaluation Form. 

Phase 2 Evaluations: 5-10 hours listening to the NOTY™ interviews, looking at social media, and providing images of the NOTY™ Nominees then filling out the Phase 2 Evaluation Form. 
Please contact the INA office at info@nanny.org if you have questions regarding the process or your portfolio.
As the 2013 International Nanny Association's (INA) Nanny of the Year™ (NOTY™) was being selected, the INA wanted to create a seal that represents what the Nanny of the Year™ means. We asked NOTYs and others who support the mission of the NOTY™ program what four words they think of when they heard "Nanny of the Year™". Many of the same words were mentioned. As one is selected to be the Nanny of the Year™, they become part of a unique family with fellow NOTYs.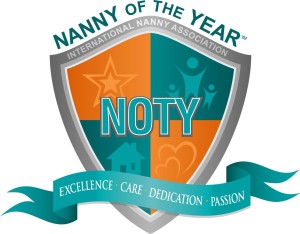 Shape of the Seal:  The family crest represents the family of Nanny of the Years™.
Excellence:  NOTY™ displays a level of distinction in all they do.
Care:  NOTY™ has an unfaltering commitment to nurture those in her charge.
Dedication:  NOTY™ has an unconditional commitment to the childcare industry and their jobs.
Passion:  NOTY™ has consistent drive and enthusiasm for her job and career in the nanny industry.
Previous NOTY™ Recipients