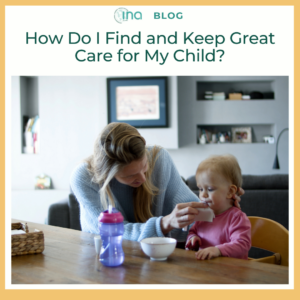 By Cassandra Rosas
Learning about the best options available for finding someone who can take care of your kids while you are busy is necessary for the peace of mind and the mental health of parents. Especially when you are not sure who to trust. This situation poses questions like: 
What are the different types of caregivers? 

Where and how do I find a good one? 

Is there anything I should know before hiring someone? 
There are four main categories when it comes to childcare in your home. 
Babysitters
The INA has a full definition of a babysitter but they usually are someone you would employ as needed, meaning you would hire a babysitter for a last-second emergency or a special occasion where you plan to go out on a specific date. You don't usually need this person every day.
An average babysitter should have at least have an understanding of what to do in case of an emergency and who to contact if anything goes wrong. This can be someone you find in the community or they can be friends and family. We can consider a babysitter, someone who will be at your home on occasion, as needed. But you want to know enough about them that you trust to leave your kid's wellbeing in their hands for a few hours.
Nannies
Being a nanny is considered a true profession; a specific degree is not usually required but there are credentials that can be earned. Additionally a degree in early childhood education is thought of as a benefit. Basic certifications like first aid and CPR are normally required by parents to work as a nanny. Most nannies go through an interview process with the family, and both parties expect a long-term commitment that considers fair and legal pay and benefits like days off and vacations. This type of childcare can be part-time or full-time. Nannies sometimes live with the family that employs them, in which case the nanny would be more integrated with the family's dynamics. In some cases, they even take care of tutoring or educating the children.
Newborn Care Specialists
Being a Newborn Care Specialist (NCS) usually means that you work with babies from birth through a few months old. Many NCS strive to have some specialized education specific to these young children and support their parents. This type of childcare provider often works overnight shifts, 24 hours for several days in a row or what is called "rota" care where you have a certain number of days on and then off rotating back and forth. It takes a very specific type of childcare provider to do this job but often pays higher rates for that care. 
Au Pairs
Au Pairs are another type of in-home childcare. The term "Au Pair" comes from the French language, which means "equal." An au pair will typically live with the family and take the role and responsibilities of a nanny in exchange for room/board and a fixed salary. This individual is a foreign student who comes to the family's country to take classes abroad. The agreement is typically a full year. This can be great for families with extra room to accommodate an international student in exchange for limited childcare services who love to socialize with different cultures.
Parents of children who are disabled or neurodivergent may require a nanny with more specialized training.  Parents who have children with unique care requirements should make sure to look for someone with the required training and experience to ensure your child's  safety.
Where do I find these people? 
Whether you are looking for a babysitter for short-term and back-up care, a newborn care specialist for your newborn, a long-term nanny for your growing family, or an Au Pair to expose your family to a different culture, the best place to start is with a Placement Agency. You can search through INA's Placement Agency Members in their public directory. Using a "brick and mortar" agency like this can add peace of mind like confirmed background checks, vetting of the caregivers, and matching criteria. Each agency is different so it is best to find out what they have to offer before you start your match. 
If you want to do your own vetting of the caregiver, you can use online recruiting platforms like  Sittercity, Urban Sitter, Care .com, and eNannySource. 
On the Sittercity website, you can find a wide variety of caregivers with all levels of skills and experience available part-time, full-time, live-in, last-minute care, and even specialized care.
On the Urban Sitter website, you can find over 50,000 caregivers, from babysitters, nannies, tutors, pet sitters, and even senior companions. It has an average time of response of 15 minutes or less, which is very convenient for last-minute emergencies, and over 250,000 reviews to make your experience more reliable.
Another option is Care.com which also has an app. They have a user-friendly platform that makes it very accessible to find and pay for a babysitter, nanny, or tutor. They offer to run background checks on their caregivers, including criminal records.
eNannySource.com has been in the nanny business since 1994.. You can search a database of nannies and use vetting tips and tools like the Nanny Success Kit and background checks to hire a nanny just like a professional agency.
They have quality nannies including part-time nannies , live-in nannies, college educated nannies, nannies who specialize in infant care, and nannies who can double as a housekeeper.
And lastly, Au Pair in America. This is where you go for a cultural experience on top of childcare services; this website has au pairs that come from 60 different countries on six continents, which is definitely an enriching experience. If using an Au Pair, be sure you understand the expectations of the families and the limitations on the childcare these international individuals have.
There are plenty of options out there for finding a babysitter, nanny, newborn care specialist or au pair for your family. Consider all the options available and try what works for your situation.  Don't forget to develop and keep an accurate Work Agreement! Once you find the perfect match for your needs, hold on to them by treating them right.
Cassandra is a content creator at Hire a Helper. She is passionate about parenting and childcare topics, she specializes in moving advice for parents but also loves to write about health and wellness,  lifestyle, and other environment-related topics.