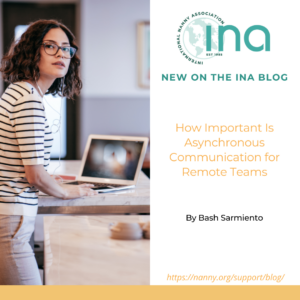 By Bash Sarmiento
Have you ever wondered why remote work employees are more productive than traditional employees? It is because they don't have to deal with annoying distractions from other colleagues and can choose flexible hours of working. Remote companies have adopted asynchronous communication, which means work doesn't happen at the same time for everyone.
If you own a small remote company and want to improve your remote team's productivity and communication, then asynchronous communication is for you. In this article, we will learn what asynchronous communication is and how important it is for remote teams.
What is Asynchronous Communication?
Asynchronous communication refers to the type of communication in work where the sender does not expect a reply right away. In asynchronous communication, the recipient can reply in due time and does not have to leave all their work aside and reply to messages instantly.
This is especially helpful in remote work, where people from different locales and time zones make a team. It not only helps improve communication across the remote team but also allows everyone to communicate effectively whenever they can. Moreover, professionals such as developers who require long stretches of intense focus can benefit from asynchronous communication as they can completely focus on their work and reply to important messages whenever they can.
Why is Asynchronous Communication Important in Remote Work?
While working remotely, attending to work communication immediately can take time and effort. Not only will you become less focused on your own work, but unnecessary notifications might annoy you all the time. Some of the challenges that asynchronous communication solve are:
Time zone differences: 
The most significant aspect of remote work is that employees all over the world can work as a team, even if they are hundreds or thousands of miles away from the office. Asynchronous communication lets you communicate and collaborate at your own pace without having to worry about being online at the same time.
Technical faults:
Technical glitches are bound to happen. You never know when your devices will encounter a technical fault. As remote workers, your devices are your offices, and losing them to a technical fault means missing out on your work and important updates. However, with asynchronous communication, you won't miss out on anything and can reply or get updates as soon as you return.
Work-schedule differences:
Even if all remote workers are from the same time zones, they can all have different flexible working hours. Some are productive in the morning, while others can do more work at night. And real-time communication can become a hassle for many. Therefore, asynchronous communication solves this problem by allowing team members to focus on their work without being distracted by constant communication.
Loss of Data:
Sometimes in synchronous communication (real-time and instant communication), the shared information or data is misplaced or forgotten (in the case of oral communication). But asynchronous communication provides a written record of data for remote teams for future reference. It eliminates the fear of missing out on what was said on a business call or meeting, the necessity to take aggressive notes during video conversations, or the worry of being unable to attend a meeting. A proper record of conversations is available to everyone 24/7; hence, no data loss.
Work Stress:
Being available all the time creates an unfocused work environment for employees and brings about the stress of controlling schedules and agendas. The time lost in communicating instantly by leaving work aside causes more frustration, stress, and pressure leading to work burnout. Asynchronous communication lets you work productively as you can turn off notifications and get back to them whenever you can, resulting in better work quality and improved productivity.
How Can You Implement Asynchronous Communication for Your Remote Team?
Asynchronous communication can be a valuable addition to your remote team as it supports your overall business approach. Here are a few steps you can follow to ensure correct implementation for your team:
Choose the right tools:
Choosing the right communication tools that suit all types of communication within your organization is important. The most common nowadays is Slack, which lets you enjoy collaborating and communicating at your own pace.
Train your workers:
Remote team building activities are important for employee engagement, and incorporating variety and optional attendance, as well as synchronous and asynchronous options, can make corporate video productions and other remote team activities more engaging and effective for remote teams. Ensure you train them at the start and give them time to adopt it.
Set clear guidelines: 
Establish clear guidelines for how team members should communicate asynchronously. Define expectations for response times, how and when to follow up on messages, and how to ensure everyone stays on the same page.
Schedule regular check-ins: 
While asynchronous communication is great, staying connected with your team is important, especially at the start. Schedule regular check-ins to catch up, share updates, and discuss any concerns.
Conclusion:
Asynchronous communication increases productivity by minimizing remote work challenges and creating a flexible and comfortable work environment for employees. It is important to use asynchronous communication to create a smooth remote workflow so remote workers remain productive, and businesses flourish.
Bash Sarmiento is a writer and an educator from Manila. He writes laconic pieces in the education, lifestyle and health realms. His academic background and extensive experience in teaching, textbook evaluation, business management and traveling are translated in his works.