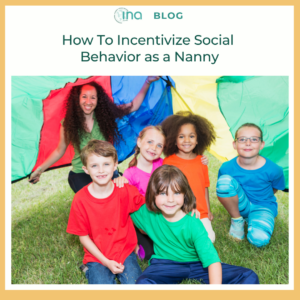 By Katie Brenneman
As a nanny, you're responsible for the health and well-being of the children you help raise. This means you should help kids make healthy choices while role-modeling perfect behavior for the kids you are caring for. 
As a nanny, you can also help the children you nanny develop their social skills by incentivizing teamwork and leadership. This will serve the child/ren you care for well for years to come and help them build strong bonds with their family and friends. 
Role Model
As a nanny and a role model, you play a critical part in the development of the children you care for. Whether you realize it or not, the children you nanny are always looking to you for guidance and advice. You can incentivize socialization by role-modeling positive behavior yourself. 
For example, if you're all due to call on a family friend or relative in the afternoon, consider creating a card-making activity with the children. Then, when you arrive, encourage the children to give their cards to the person you're visiting. This will show your kids the value of generosity and will role model kind, generous behavior. 
Alternatively, if the children have a friend coming over, try to create activities that account for the preferences of their buddy. Ask your children about their friends to find out what they're like, and plan a morning of play together. This will help your kids make fast friends and will create a positive association between fun and helping others. 
Parties
Children love to party and play. Parties are the perfect chance to practice social behavior and take part in shared activities, too. Facilitate collaborative socialization at your child's next party by: 
Planning interactive activities that encourage teamwork and cooperation

Focusing on shared interests and reward the children when they achieve a collective goal

Being mindful of cultural differences and work with other parents and caregivers to ensure the party is a success
When at the party, keep an eye on the children you nanny for. If you notice a child seems left out, encourage your kids to go and involve them in the activities. Be sure to praise them if they do help another child feel at ease and reward them with a treat or toy they enjoy. 
Rules
Parties and play are great ways to incentivize social behavior as a nanny. However, you may need to set some rules surrounding social interactions and digital media.
If your children have access to phones and tablets, consider limiting the time they can spend online. Social media undermines young people's mental health and may cause issues like poor body image and weak emotional regulation. Keep track of how much time your children spend online and try to limit the amount of the day they spend surfing the web. 
Further, incentivize social behavior as a nanny by rewarding the children when they do abide by your pre-established social rules.Childrenwho are polite and compassionate should be rewarded, as this will create a strong association between kindness and happiness. Work with the parents to brainstorm rewards, and consider larger rewards after a period of sustained social respect. 
Conclusion
Socializing can be difficult for young children. As a nanny, you can help children come out of their shells by incentivizing good behavior. Reward children who are compassionate towards others and role model generosity when interacting with other people. This will help a child practice their social skills in a safe environment and encourage them to treat others with respect and dignity. 
Katie Brenneman is a passionate writer specializing in lifestyle, mental health, education, and fitness-related content. When she isn't writing, you can find her with her nose buried in a book or hiking with her dog, Charlie. To connect with Katie, you can follow her on Twitter.