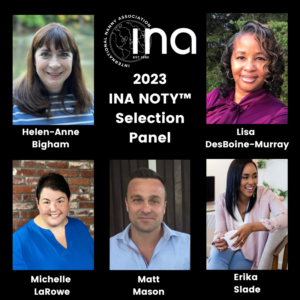 Last week we introduced you to our 2023 INA Nanny of the Year™️ Nominees and soon we will be announcing which of those amazing nannies and NCS will move on to be INA Nanny of the Year™️ Finalists. But before we do, we want you to meet the professionals in our industry who spent hours of time over the last few months evaluating our NOTY Nominees. 
HelenAnne Bigham is a career family assistant with 20 years experience working with private families.  She holds a BA in elementary education from Rollins College and an MEd in special education from the University of Virginia. A former classroom teacher, she brings her excellent organizational and communication skills along with her passion for learning into the home.  Anne believes supporting the whole family is the best way to nurture children. Whether  changing diapers or teaching a teen to drive she strives to help children feel safe and secure.  When she's not working she loves hiking, swimming, reading, and spending time with her family and well trained dogs.
Lisa DesBoine-Murray is the Founder & Owner of Duchess Nannies & Domestics, a luxury Household  Management and Private Service Placement agency. DND is also the parent company of The Herbert  Alfred Agency and Nannies From The Heart. Lisa is a business consultant, advisor, mentor, and fierce  advocate for the Private Service Professional. She has over 20-years' experience of providing Household  
Management solutions to a diverse client pool, along with placing Nannies and domestic staff in roles nationwide and abroad. With a background in business, and a relentless passion for on-going training,  she applies industry standard practices within her agencies to ensure nannies are equipped with  professional development resources and tools to remain competitive within their field. Her commitment to the Private Service industry is seen through several channels. She is an INA member and active  participant, a current board member with the Estate Management Network (EMN), volunteer with the  Association of Premier Nanny Agencies (APNA) Diversity, Equity and Inclusion Task Committee, APNA Accelerator Program mentor, a guest contributor to the Nanny Magazine, and invited guest speaker to several webinars. She also Co-founded the Alliance of Minority Owned Nanny Agencies & Professional  Nannies (AMONAPN). The mission is to ensure agencies and nannies align together for the purpose of  moving the industry forward under one umbrella of standards. Her personal roles as proud mom of four,  and 'Glam-ma' to six grandchildren remain at the forefront for using her professional platforms to elevate others.
Michelle LaRowe has over 25 years of Nanny industry experience. As an International Nanny Association credentialed Nanny and Nanny of the Year™ award recipient, Michelle has authored several parenting books including Nanny to the Rescue!, Nanny to the Rescue Again! and Working Mom's 411. Michelle has also served as executive director of the International Nanny Association and serves as executive director of Morningside Nannies, editor in chief of eNannySource.com, and as an expert content contributor, product reviewer, and consultant for a variety of major brands. To educate the next generation of Nannies, Michelle launched NannyTraining.com where she has enrolled students in over 35 countries. Her formative course, offered exclusively in partnership with NannyStella, Inc., is the only US Based CACHE Endorsed Customized Qualification for nannies. Michelle serves as editor in chief of Nanny Magazine, a digital trade publication for the nanny industry, and is the lead educator at GlobalNannyTraining.com, an online nanny training platform that offers NCFE and CACHE accredited training programs. Michelle and her husband Jeff live on Cape Cod, Massachusetts with their five children, three of whom they adopted through foster care.
Matt Mason is the founder of Army of Nannies – A UK-based Nanny search portal that introduces Nannies to families (and agencies too). Building on their success in the UK, they are now looking to expand, so getting to know the best-of-best Nannies in the INA was a real privilege. 
Erika Slade is an industry innovator with over 20 years of combined experience. She is the owner of E-Nanny, a Nanny agency and childcare concierge service based out of Oklahoma. She is also the owner of EN-Tellect Coaching, a professional development hub and company culture accelerator. Erika is a board member of The Association of Premier Nanny Agencies.  She also serves as a mentor for the Goldman Sachs program. A prolific speaker and educator, she innovates in the area of professional development and is committed to raising the status quo while making an impact in her community. As a former Nanny, wife, and mom of three, she is passionate about our smallest humans and recently pioneered a training program for children.  Erika is known for helping others find their voice, own their path, and excel in their given industry.