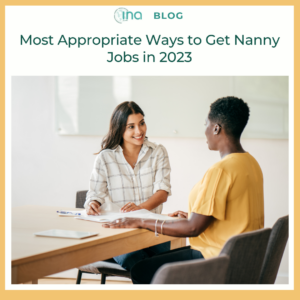 By Inna Reshetniak
If you're looking for a rewarding and meaningful career, becoming a nanny can be the perfect fit. Not only will you get to spend time with kids and help them grow, but you'll also get the chance to form relationships with families and make an impact in their lives. We have collaborated with experts from job aggregator Jooble to discuss the main steps you should take to make sure you're getting the most out of your nanny search.
Build Your Resume

– Before you start applying for jobs, make sure your resume is up to date and includes all relevant information that employers will find helpful. Include work experience, references from past employers, certifications or training related to childcare and any other information that can make your resume stand out.
Reach Out to Family and Friends

– Ask around your family and friends circles if they know of any job openings or families in need of a nanny. Word of mouth is a great way to get leads on potential jobs.
Update Your Social Media Accounts

– Many employers will check your social media accounts to get an idea of who you are as a person. Make sure all of your accounts are up to date and professional.
Apply for Jobs – Once you have your resume ready, start searching for nanny job openings in your area. You can look on job boards like Indeed or Glassdoor, reach out to local nanny agencies, or even search on Craigslist. Check out the INA Job Board and INA Directory for Placement Agencies near you. 
Network

– Don't be afraid to network and make connections with other nannies in your area. Not only will this help you gain more knowledge about the job, but it may also open up new opportunities for work.
Be Professional

– When you apply for jobs, make sure to always be professional and courteous. Keep your emails short and to the point and make sure you follow-up with employers after submitting your resume.
What are the requirements for a nanny job?
The requirements for nanny jobs vary depending on the employer, but in general, there are certain qualifications you should meet before applying.
To become a nanny, you usually need to have some type of experience working with children (such as babysitting or nannying), good references from past employers, and a valid driver's license. Some employers may also require additional qualifications such as CPR or First Aid certifications, an up-to-date background check, and/or a clean driving record. Make sure to research the requirements for each job you apply to in order to increase your chances of getting hired. Check out INA's Recommended Practices for Nannies. 
Average salary for a nanny
The average starting salary for a nanny varies depending on experience level and location, but generally ranges from $15-$25 per hour. In addition to hourly wages, many employers also offer benefits such as vacation pay or transportation reimbursement. If you're looking to make more money, consider taking on additional responsibilities or working longer hours.
Closing Thoughts
Overall, being a nanny is an incredibly rewarding job that provides you with the chance to form meaningful relationships and make a positive impact in someone else's life. If you have the qualifications and experience necessary, take some time to build your resume, update your social media accounts, reach out to family and friends for leads on jobs, apply for openings online or locally, network with other nannies in your area, and be professional when applying. With these tips in mind, you can easily find yourself working as a successful nanny!
Inna Reshetniak. Blog Writer and Editor at Jooble. She has been a blog writer for Jooble since 2015. In addition to writing for Jooble, she also provides coaching and copywriting services for businesses of all sizes. In her spare time she likes to swim and cycle