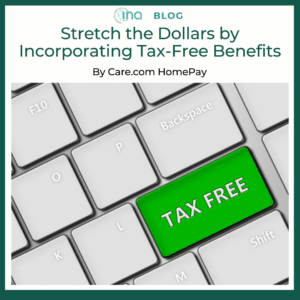 It's no secret that inflation is on the rise and the job market is tight. Like businesses, many families are having to stretch to attract candidates. Incorporating tax-free benefits into the compensation package is a smart way to stretch the dollars. Here's a list of the most common benefits offered by families:
Qualifying Healthcare Benefit
Families with only one employee can pay for any amount up to the employee's out-of-pocket cost toward an individual health insurance policy covering the employee and their family. The contributions can be made either directly to the insurance company or via a reimbursement to the employee.
Note: Families with two or more employees must set up a Health Reimbursement Arrangement (HRA) in order provide this non-taxable benefit. For more information about setting up an HRA, please feel free to contact our office.
Education Assistance– Up to $5,250/year
This benefit can be applied toward the cost of undergraduate or graduate tuition (and books) at an accredited college or university. Effective 2020, the benefit can also be applied toward the repayment of student loans.
Cell phone service
This benefit can be applied toward the cost of a cell phone plan provided that being reachable by phone during the workday is a requirement of the job.
Public transportation to and from the worksite- Up to $280/month
Note: Families in Massachusetts are only able to provide $130 per month toward this benefit.
Parking at the jobsite or public transportation facility- Up to $280/month
Mileage reimbursement – up to 58.5 cents per mile
Note: Only eligible for miles driven on-the-job in the employee's vehicle. Miles commuting to and from the workplace are not eligible.
We're always happy to put together breakdowns of the cost to the employer and the take-home pay for the employee associated with different compensation package options. Just send an email to partners@myhomepay.com or call us at 877-367-1969. We're here to help!