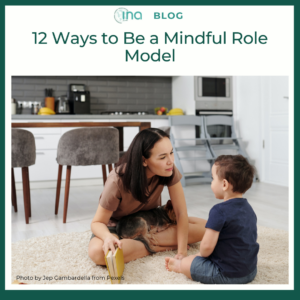 By Derek Goodman
Modeling is one of the most important ways that parents and caregivers nurture children into happy, healthy, capable members of society. Children look to adults when learning to navigate the world around them and imitate what they see.
Do you know what your words and actions are teaching your little ones? Here are 12 ways parents and caregivers can be positive role models for children of any age.
Practice Mindful Parenting
Mindful parenting prevents emotions from getting in the way of your parenting goals and teaches children how to manage their own thoughts and feelings. 
Pursue Personal Goals
It's challenging to think long-term when you're just trying to get through the day, but personal goals are important for modeling a well-rounded life.
Take Care of Your Health
Our children are the most important thing in our world, but you can't give them your best if you're not taking care of yourself.
Model Healthy Relationships
Relationships with others are an important part of our well-being as parents, caregivers, individuals, and families. The way parents and caregivers form and maintain relationships shapes the bonds their children make in the future.
Parents and caregivers are a child's guiding light. Make sure you're leading your child in a positive direction with these mindful parenting practices.
The International Nanny Association is committed to supporting nannies and other childcare professionals. Become a member today!.
Derek Goodman is an entrepreneur. He'd always wanted to make his own future, and he knew growing his own business was the only way to do that. He created his site Inbizability, to offer you tips, tricks, and resources so that you realize your business ability and potential now, not later.