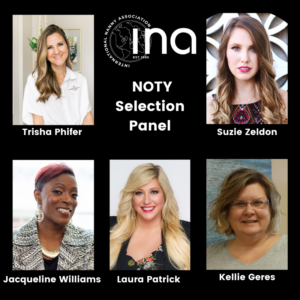 Last week we introduced you to the 2022 INA Nanny of the Year™️ Finalists and soon we will be introducing our 2022 INA Nanny of the Year™️. But before we do, we want to introduce you to the 5 professionals in our industry who spent a lot of time over the month of January to evaluate our amazing NOTY Nominees. 
Kellie Geres, with over 33 years in private service, Kellie Geres is an industry veteran specializing in working with divorced parents and successfully transitioning to household management. Kellie also works with nanny organizations and agencies providing small business and social media services.
Kellie has worked with her current family for over 18 years, first as the children's nanny then transitioning to full household management and oversees a busy household of working parents, adult children, and the most spoiled dog, Riley. She remains active in the industry, assuming several roles including APNA Administrative Assistant, overseeing the day-to-day office operations and conference coordination, national co—chair for National Nanny Recognition Week (NNRW), and co-creator along with Sue Downey of Our Nanny Diary, offering digital downloads and printed, bound diaries for nannies and parents.
Kellie was named the 1997 International Nanny Association Nanny of the Year, the 2014 Domestic Estate Management Association Lifetime Achievement Award recipient, and the 2020 INA Meritorious Award Recipient. 
Kellie has presented at several industry events including Nannypalooza, INA, All Star Nanny Conference, and InterNational Nanny Training Day and has been interviewed for television, print and radio. Kellie resides in the Washington, DC metro area. When not wearing her many hats in this industry, she enjoys traveling, reading and a really good glass of wine.
Laura Patrick is an attorney, entrepreneur, and marketing specialist who has held a life-long interest in the arts, justice, journalism, and hospitality. A native of Charleston, SC, Laura grew up surrounded by her family's conservation efforts and contributions to the local art scene, where she built a passion for philanthropy, the local art scene and supporting creative endeavors. After receiving a degree in Mass Media and Marketing from College of Charleston, Laura graduated from University of San Diego School of Law with a concentration in Intellectual Property. No matter what project she's involved in, she maintains a passion for facilitating artists and business owners in creating, growing and protecting their rights. Today, Laura is Co-Owner and the Chief Marketing Officer of Bay Street Biergarten, an Operating Partner of Patrick Properties Hospitality Group and Executive Producer and In-House Counsel for 4Corners Productions. Outside of working with PPHG, Bay Street Biergarten, and 4Corners Productions, Laura enjoys spending time with her two children and bingeing true crime – but not at the same time.
Trisha Pfeiffer is an Arizona native with over 15 years of professional childcare experience. Her passion for the industry developed at a very young age, and upon attending Arizona State University she pursued a successful and rewarding career as a professional nanny, household manager, and newborn care specialist. In 2011, utilizing her knowledge of both the industry and marketplace, Trisha launched The Nanny Joynt. She has since helped thousands of families and nannies find their perfect match.
As a mother of 3 beautiful children, Trisha understands the importance of finding the right fit, not only as a role model for children but also for each family's lifestyle and personality. The Nanny Joynt works intimately with families and nanny candidates to ensure compatibility and harmonious connections.
When Trisha is not playing "matchmaker" to Valley families and nannies she enjoys hanging out with family, dancing, traveling and most of all loving on her babies Ronan, Declan, and Capri!
Jacqueline Williams is founder and owner of five star nanny placement agency, A Mother's Prayer Placement based in the Washington, DC area. Formally educated in DC, she studied special education at the George Washington University. After working over 20 years as an educator in one of the local public school systems, she spent the next 10 years studying business before launching this company.
In addition to her career in education, special education and business administration, she spent numerous years volunteering by serving disenfranchised children and their parents, counseling in a local community pregnancy center, volunteering as a camp counselor at a teen summer camp, teaching Sunday school at her church and serving as a volunteer administrator to the pastor and serving at several local food outreach programs.
Jacqueline has a passion for seeing people of all walks of life thrive, and she is always willing to find the avenues to give individuals in need a helping hand. Her agency supports several non-profit youth and children programs and she makes sure to personally volunteer several times a year with these organizations.
Jacqueline was a single parent raising her three children and a niece all while working and obtaining her education. This experience developed her passion for seeing families thrive Jacqueline likes to travel with her family during her spare time, as well as play with and read to her three grandchildren.
Suzie Zeldin is the co-owner of Smart Sitting, a Nanny Agency specializing in enriching, educational, and developmentally focused nanny placements in the New York metro area and beyond. After graduating from New York University, Suzie worked with high profile advertising agencies, gaining experience in marketing, copywriting, client relations, and the positive impact of a strong brand identity. Prior to that, she worked at an antitrust litigation firm which instilled in her an appreciation for details and a patience for sometimes unavoidable tedium. Suzie has spent her time at SmartSitting creating processes and technical solutions while balancing the unique and personal needs of families, children, and the wonderful people that spend their time caring for them.