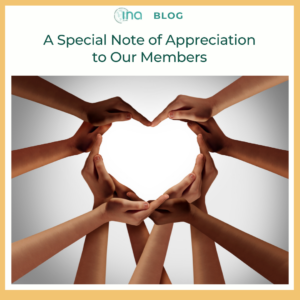 Our team at International Nanny Association (INA) is beginning 2023 with grateful hearts. With gratitude comes appreciation – for the people that we work alongside and for the members that help make our organization what it is. Together, we are working to elevate and nurture the quality of childcare, so we can make the world a better place. 
Sue Downey, board member at INA shares, "I would like to thank all the amazing people who have been or are currently volunteers for INA. An organization with a mission so big needs a great deal of support. So many women and men have given thousands of hours creating programs, supporting members, giving much needed funds and just so much passion and time and energy. We stand on the backs of these giants as we try to continue the work. I truly appreciate their dedication. I try to stop and appreciate the delicate balance of all the parts of the community. When we all work in concert, the children win with high quality, loving care. Thanks to all who share this vision with us."
Helen McCarthy, NNEB and Co-President of International Nanny Association said, "Our members far and wide are the heart of this association. Although I do not know you all personally, I appreciate each and every one of you for putting your trust and support into the INA."
Laura Schroeder, who joined as a member of INA in 2014, and now serves as our organization's Co-President shares, "I could not do the job of President of the INA without the love and support of you, its members.  I am so appreciative of all the members of the INA. I have learned so much from those who have gone before me as well as from those newer members with different perspectives. My understanding of the industry is deeper not just from other nannies and NCS's like myself, but also from the agency owners, educators, and business members whom I have had the opportunity to work with. The past 6 years on the board have been difficult at times, but so very rewarding. Thank you from the bottom of my heart for making me proud of this truly special organization."
INA membership is open to newborn care specialists, nannies and other in-home childcare providers, nanny employers, support group leaders, nanny placement agencies, educators, industry service providers, business staff that supports the nanny industry, and owners of online platforms that connect families to childcare providers. 
We believe that we make a stronger community when we stand together, so click here to learn more about what it means to become an INA member and then consider filling out a membership form.