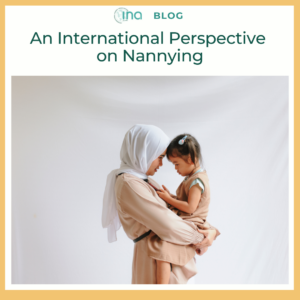 By Katie Brenneman
There's an old proverb that says, "It takes a village to raise a child." When you become a parent, you learn all too quickly how true this is. It is little wonder, then, that soliciting support in caring for children has been common practice for centuries all over the world.
Today, nannies provide an invaluable service for recuperating mothers and busy families. However, nannying practices vary widely across the globe. It's important to keep these differences (and similarities) in mind when working with nannies and families from other cultures.
Full-Time Caregiver Support
In the United States, nannies often work full-time for a single family. When a family and nanny choose to match up, the nanny typically resides in the home, freeing parents to focus on other responsibilities, such as work or school, outside of the home. This support can be vital for many parents, especially single parents, who are working to provide a better life for their children through career advancement and education.
Full-time nannies may also be employed for a limited time to ease families through challenging periods, such as an illness in the household or the birth of another child. During the pandemic, maternity care changed significantly, resulting in an increase in pre- and postnatal care delivered through telemedicine, as well as substantially abbreviated postnatal hospital stays. The result has been an increasing need for full-time, in-home nannying services temporarily to support pregnant women and new mothers in the difficult period immediately before and after childbirth.
This trend echoes a long-standing Chinese tradition in which full-time nannies serve families for a month following the birth of a child while new mothers remain in postnatal confinement. This gives them time to recover before resuming normal activities and ensures that the new addition and the rest of the family are well cared for.
Part-Time Care
While most professional nannies in the U.S. are matched by an agency with families for whom they will work full-time permanently, this is not always the standard practice in other countries. Much depends on the social systems that are in place to facilitate childcare for working parents.
In Sweden, for example, a robust social safety net that includes substantial maternal and paternity leave and childcare benefits means that parents generally do not need full-time nannying services. Rather, they typically employ part-time nannies for a few hours per work to supplement the care parents provide and the services provided by the state.
The Takeaway
Nannying is more than a rewarding way to earn a living. It is also a continuation of long-standing cultural traditions. And though nannying practices differ around the world, what is universal is the deep connections that so often evolve between nannies and the children and families they care for.
Katie Brenneman is a passionate writer specializing in lifestyle, mental health, education, and fitness-related content. When she isn't writing, you can find her with her nose buried in a book or hiking with her dog, Charlie. To connect with Katie, you can follow her on Twitter.