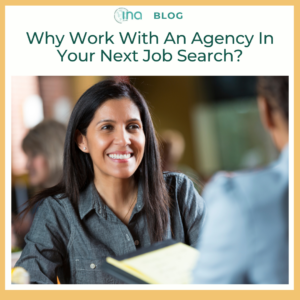 By APNA, the Association of Premier Nanny Agencies
When searching for your next childcare position, having an advocate in your corner is essential in landing a top-notch job! A reputable agency will not only look out for your best interests but will also give you access to positions that are paying competitively (and legally!) and are following industry standards. 
Here are some of the benefits of going through an agency for your job search:
Superior Screening, Vetting, Matching: Agencies not only take the time to screen nannies but also screen families in order to understand everyone's needs, wants, and concerns. An agency's staff builds relationships with both candidates and clients to ensure that before an interview is set up, only the best possible matches are introduced. This process saves you time and energy not meeting with families whose position doesn't align with your wants and needs.
Interview Preparation: Agencies realize each interview is different and each job you seek has its own special needs and circumstances. With that, counselors help give you insight into the specific position and family so you can address those needs and highlight your strengths and experience. 
Resume assistance: Whether you've never had a resume before or require updating from your last position, counselors can assist nannies in creating a resume that highlights your career and makes you stand out with families. A resume should provide all the necessary information required by the families you're interviewing with.
Advocacy: Reputable agencies take time to get to know you, your strengths, and your preferences. They also take time to educate their client families about current salary rates, tax obligations, and industry benefits. These families, in turn, are more informed about nanny expectations and make for better household employers. 
Ongoing Support:  From the minute you begin your job search to the end of your job search and throughout your career, counselors provide you with valuable feedback. Nannies don't have an HR department to address questions or concerns throughout their employment. An agency can offer that support whether it be helping mediate a difficult situation, contract re-negotiation, or just advice on how to address an issue. 
For your next job search, consider using an APNA member agency! APNA agencies go through a rigorous vetting process including reference checks from nannies and families they've worked with. APNA agencies offer continued support throughout the hiring and employment process, they advocate for fair and legal pay, they either assist or present families and nannies with a work agreement, and they are available at any time for questions big and small.
Find an APNA agency in your area!