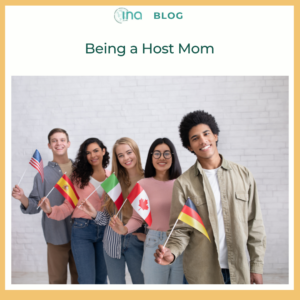 By Takita Tunstall
You may have heard the term Host Mom/Dad/Parents spoken by an Au Pair when referencing the parents of the child they're caring for, who are hosting the Au Pair in their home and providing the basic needs such as water, shelter, and electricity. An Au Pair is typically foreign to the country they are being hosted in. This could be for schooling purposes and or to find work and a place to stay in exchange for a stipend and travel experience. 
Some of you may actually know what I mean when I state that I am a Host Mom as I normally follow up with "…of an Exchange Student!" Usually, I still get questions out of reasonable curiosity to which I happily explain why I chose to be a Host Mom and how my experience is going thus far.
I have 2 biological children, who have been quite fortunate when it comes to traveling. They have yet to fly internationally predominantly due to the pandemic. But also, in all honesty, the expense that comes with traveling with multiple kids is not currently in my budget. However, there are other kids in the world who have the luxury (and bravery) of traveling away from their home country to stay in another country. While I may not be able to take my kids to another country presently, we can open our home to a student who needs a place to stay during their time here in our country! 
In Spring 2013, I had the pleasure of visiting Japan for a Travel Studies course. The experience was phenomenal and I would love to go back! So hosting a student from Japan was my first choice! Though I may have only stayed in Japan for about 8 days in total, I figured I could at least relate to being 13 hours away from your loved ones with limited communication and having to completely readjust your brain to an entirely different language you know very little of. I know very basic Japanese so I definitely wanted to make sure I got a student I could give the best assistance to.
During my stay in Japan, I got to visit different parts of the country with my classmates I've known for about a year. Exchange students usually come alone and have to go along with the family's routine and traditions. My trip was just over a week long. Exchange students could be away from their home country anywhere between 4-10 months! The exchange students are typically teenagers so there is a lot going on with them emotionally, developmentally, and socially. Mixing in another culture with a different set of social norms and a different academic expectation could bring about some unexpected feelings and reactions. I'm sure Au Pairs can also relate to this, despite most of them being of "adult" age when they are hosted in another country.
As a Mom, Stepmom, Nanny, Elder Sibling, and former Teacher I am well equipped to support children going through things internally as well as able to provide a safe space to manage all of those feelings. As a traveler, I am thankful for those who have saved me hotel money by offering me a place to stay during my visit.
Now, I can officially add "Host Mom" to the other titles I mentioned above that I proudly wear. It's been wonderful seeing the kids interact with and learn from each other. Our family has learned so much about Japanese customs, beliefs, and language during our Student's stay. I encourage those who can to give it a try!
Tikita Tunstall: Takita is a Nanny, Agency Owner,. Biological Mom of 2,  StepMom of 1, Host Mom,  Former Teacher, and Mental Health Advocate. She has been a Nanny since 2018 and Babysitter since she was 15 years old in Baltimore, MD. Not forgetting to mention being the eldest of 6 and a mom of two, she has also worked as a school teacher and at a children's hospital; both of which allowed her the opportunity to network with the Autism community. Currently, in addition to balancing being a Mom and a Nanny, Takita also owns and operates her own Nanny Agency. Clearly she is no stranger to hard work; not even back when she worked in retail for nearly 10 years! From Retail to Business Owner! Takita has quite the adventurous tale to share with the world about her journey and we are definitely looking forward to hearing it once she finds the right platform to share it on.