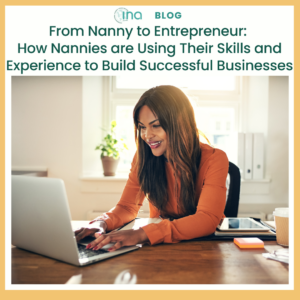 By Jackie Edwards
There are some huge success stories from the world of nannying, where teen babysitters turn into multimillionaire business moguls. Wherever you are in your nannying career, you may be thinking of the next steps and considering if you can be the next Noa Mintz or Rachel Charlupski. The skills you pick up as a nanny are hugely transferable and whether you choose to remain in childcare or take your skills to another career, there's plenty of scope for entrepreneurialism.
From Nanny to Girl Boss
Deciding you want to expand your experience and move on from nannying does not mean turning your back on childcare and your commitment to families and young people. Many of the nannies turned entrepreneurs remain in the childcare sector and do all they can to enhance and improve the childcare sector.
Whether you want to launch your own nannying agency, provide training for parents and carers or more into a more education-based role, the experiences you've built in nannying all hold you in good stead. If you've benefited from nanny specific training, you may be keen to ensure others experience the same and move into training and education as opposed to directly caring for children.
Transferable skills and experience
Nannies' experiences may seem specific to childcare, but in reality, much of what they do daily is relevant for many other roles and even launching their own successful enterprises. With good connections and partnerships within the sector, launching a new childcare business should be more than possible and if you're moving out of the childcare sector, there are plenty of easily transferable skills which lend themselves to successful business ownership, including:
Project management
Many employees don't get the chance to fully experience and be trusted with any project management work until they've been with a company for 2+ years. As a nanny, you've been project managing from day one, every day is a process of managing your charges and the family as a whole, ensuring each day is a success and you're prepared for the next. You plan, organize and make important decisions for the whole family (or team).
Strong negotiation skills
Very few people in the boardroom will have the true negotiation skills needed to convince preschoolers to eat their spinach, prise a cell phone from a teen or keeping the whole family calm and collected on long journeys. These expert negotiator skills position you perfectly for tense boardroom situations, pitching to new clients and keeping a cool head in all these situations.
Multi Tier collaboration
Nannies not only cater to the needs of their charges, but they also need to keep parents and carers in the loop and meet the demands of their agency employer too in many instances. You're used to taking direction well but can also effectively manage things independently and incorporate your own ideas into how things run. Being able to collaborate with people on all levels makes it easy to successfully launch and run a business, managing employees, conspiring with business partners, and persuading customers.
Becoming the next Nannypreneur
The childcare sector is always in high demand and there is space for innovative and forward-looking entrepreneurs with the right experience and knowledge to find their niche. Even if you choose against remaining in the childcare sector, you can maximize all of your nannying experience to launch a new venture and see it succeed.
Bio:
Jackie is an experienced freelance writer who worked as a nanny in her early twenties and has employed a number of nannies for her own children over the years. When not writing, she is passionate about travel and taking her children on as many experiences as possible.