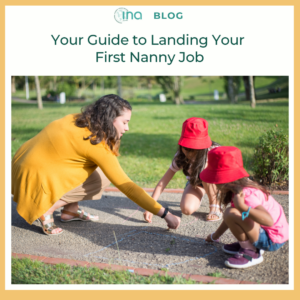 By Tina Martin
Working as a professional Nanny is undeniably rewarding. With the demand for professional Nannies growing, it can also be a secure career. The Nanny industry has a lot to offer new childcare professionals! Finding your first Nannying job is not just a significant milestone; it's the first step towards a career filled with meaningful connections and the chance to positively impact young lives. In this article, we'll provide several tips and industry insights to help you secure your first Nanny position!
Establish Your Career Goals
Setting long-term career goals and mapping out a vision for your professional life is important for your sense of direction and purpose. Goals also provide motivation to keep you moving forward. At the same time, meeting long-term goals often requires picking up new skills, knowledge, and experiences. This commitment to ongoing learning and development can enhance your professional growth and make you more valuable in your field. As a Nanny, your career plan might involve securing your first Nanny position, gaining experience and expertise in childcare, pursuing advanced training, and ultimately establishing yourself as a respected Nanny professional.
Join Professional Associations
Professional organizations like the International Nanny Association (INA) have a lot to offer first-time Nannies. These organizations provide a supportive community where Nannies can connect, share experiences, and learn from one another. They offer networking opportunities, workshops, and conferences that can enhance one's skills and knowledge in childcare. Plus, becoming a member of a recognized association adds credibility and professionalism to your profile, which can instill confidence in potential employers. Often, families seeking a Nanny prioritize candidates with these memberships because it signifies a commitment to ethical standards, ongoing education, and a dedication to the profession.
Create a Strong Resume
While Nannies are in high demand, the industry is still competitive. Crafting a strong resume will help you stand out and make a lasting impression on potential employers. If you're new to the field and don't have relevant work experience, the best solution is to use a functional resume format that highlights your skills and training instead of your work history. Be sure to personalize your resume for each job application by tailoring it to the specific needs and preferences of the family you're applying to, showcasing your ability to meet their unique requirements.
Prepare for Your Interview
Preparing for your first Nanny interview is crucial to making a positive impression. Begin by researching the family you'll be meeting and understanding their values. Prepare thoughtful questions to ask during the interview, showing your commitment to the children and their individual needs. Care.com explains that it's important to be your authentic self in your interview, as this will ensure you find a family that's a good fit for you. If it doesn't work out, another home will! 
Negotiate Your First Contract
When you click with a family, they'll want to know your rates before signing your contract. Determining how much to charge can be tough! Start by researching the nanny rates in your area and considering relevant factors such as how many children you'll be caring for and their ages. Next, calculate how much money you need for your monthly expenses to ensure your hourly rate meets those needs. Take the time to read state-specific and city-specific Nanny rules and regulations to ensure you know your workplace rights.
Embarking on a career as a Nanny is a great way to enjoy fulfillment in your professional life. As you navigate the process of crafting a resume, attending interviews with potential employers, and negotiating contracts, keep your overarching career goals in mind. With the right approach and dedication, your dream of becoming a successful Nanny is well within reach!
Tina Martin stays busy as a life coach and works hard to help herself and her clients achieve a healthy work-life balance. She is also working on her first book, Ideaspired: Put Your Ideas, Your Inspiration, and Yourself First to Make Your Dreams Come True.