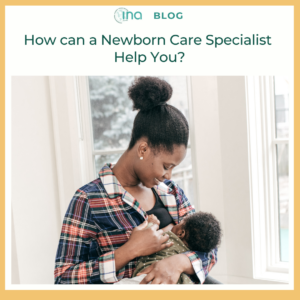 By Linda Ritter
For many new parents, the decision to hire someone to care for their newborn can be full of challenges and worries. It is possible for parents to find quality care for their biggest treasure. Newborn Care Specialist is a unique job within the ever-growing child care industry. They provide around-the-clock, high quality care to families who have recently welcomed their new bundles of joy into the world. Among the many important qualities when looking for the right Newborn Care Specialists is CALM. 
Who are Newborn Care Specialists?
Newborn Care Specialists are highly educated and specialized caregivers who have education and experience with many newborns and their families. Thus, they communicate easily with the parents and understand their concerns while effectively calming the baby when needed. In addition, they can answer all the occurring questions because they possess extensive knowledge and experience in caring for infants and helping new parents navigate the postpartum journey. 
How does your baby benefit from a Newborn Care Specialists
Warmth and Safety
Newborn babies and those up to 4 months of age are completely dependent on their caregivers to make sure their needs are met. For instance, newborns cannot regulate their body temperature, so Newborn Care Specialists know how to create a comfortable, warm, and safe environment for infants. 
Sleeping and Eating
A Newborn Care Specialist can help develop solid sleep habits, establish a beneficial schedule, form healthy eating based on the families choices, and support the bond between infant and parent. A Newborn Care Specialist can also provide information on handling any unexpected situations. 
Calm and Comfort
The Newborn Care Specialist is trained in calming and comforting babies, helping them adjust to their new environment day by day. They can also assist new parents by helping them set up a nursery that can help support the healthy growth of a baby. 
Medical assistance
Ultimately, Newborn Care Specialists offer highly specialized services that fill an essential gap between parents and healthcare providers, ensuring all newborns get off to a good start.  
Essential Characteristics
Patience
Patience is essential for Newborn Care Specialists, as it allows them to provide the best possible care for their little patients. It means offering a calm and nurturing environment and responding quickly and appropriately to any concerns or questions from the infant's parents. They must also be willing to adjust their care plans to meet the individual needs of each newborn they work with.
Calmness
As a Newborn Care Specialist, it is essential to focus on newborns' physical, emotional, and mental well-being. It means providing gentle and nurturing care for babies during their first months. Calmness is vital in this role as it allows the specialist to respond quickly and confidently to any situation or issue that may arise. It also ensures that newborns are kept safe and secure during their time under the specialist's care.
Trust
Trust is the foundation of any good relationship, and it's vital in the field of Newborn Care. Newborn Care Specialists must be implicitly trusted by parents who welcome a new addition to their family. As such, having trustworthiness as a key trait for any newborn care specialist is essential for providing quality care to babies.
Communication
Practical communication skills include the ability to understand and interpret verbal and nonverbal cues and good interpersonal and listening skills to provide comprehensive care to newborns.
Conclusion
For parents, hiring Newborn Care Specialists and establishing trustworthy relationships is essential. Patience, calm, trust, and communication are vital characteristics to look for in the person providing care for your baby. 
Linda Ritter has been working as an editor for All Top Reviews. She is an experienced freelance writer and blogger interested in writing about technology, social media, work, travel, lifestyle, and current affairs. Linda is also keen on playing the guitar and helping homeless animals.