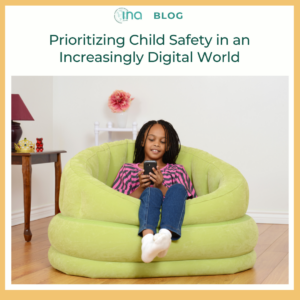 By Katie Brenneman
Protecting your child from harmful digital content is one of the biggest challenges you face as a caregiver in the modern world. Even with child-safe software, there's always a risk that the children you care for could see content they shouldn't. 
You can mitigate the risk of your child coming to harm by prioritizing child safety in an increasingly digital world. 
Appropriate Technology Use
Digital media is a fact of life in today's world. Rather than sheltering the children you care for from technology, you need to teach them how to stay safe when surfing the web or playing with tablets. 
Encourage the use of child-safe tablets with preloaded content. Chromebooks and iPads are great for adults but may inadvertently expose children to some content they shouldn't see. Choose a child-safe tablet and vet the installed content before the children you nanny before they get access to apps. 
Child-safe tablets minimize the risk of harmful content. However, you still need to have an honest conversation about screen use and should regulate children's use of technology. Some studies suggest that overusing screens weakens brain development and may compromise children's ability to empathize and concentrate during complex tasks. 
Set clear parameters around the time that children are allowed to use screens and avoid the temptation to alleviate their boredom with tablets or TVs. 
Social Media and Privacy
As a caregiver, you're entitled to show off your business online through social media. In fact, many parents use social media to find great caregivers in their area. A strong social media following can help you land new opportunities and may help you connect with other nannies, too. 
However, you cannot invade children's right to privacy by posting content about them. Likewise, you should never record the children you nanny for and post their private life to the web. Doing so is a breach of their trust and may cause problems with bullying when they grow up. 
Fortunately, you can still grow your nanny-related TikTok page without compromising child safety. Grow your TikTok following by engaging with your followers and using calls to action (CTA) to increase exposure. Hop on trends that reflect you in a caring, professional way and sidestep content that may undermine your reputation as a caregiver. 
Dealing With Inappropriate Content
At some point, the child you care for may see content that is inappropriate or harmful. You can make it easier to deal with damaging content by talking with the children you care for before they start surfing the web. 
Set aside time every month to talk to the kids about inappropriate content online. Your approach should be largely dependent on the age of the children you care for. Younger children need constant oversight and should not be given free access to the web. Tell the child you care for to "look away and tell an adult" when they see something inappropriate. 
Older children may be able to use digital devices independently. However, the same rules apply to usage. If children see anything that doesn't align with their families' tech boundaries, they should shut down the device and tell a trusted adult immediately.
Praise children for their honesty and affirm them when they see something they shouldn't. This will build trust and assure them that they didn't do anything wrong. 
Conclusion 
Child safety is a top priority for caregivers. Never post images or videos of children to social media and retain their privacy at all times. If the child you care for has access to a tablet, host regular conversations about digital safety and limit their usage. This will minimize their risk of exposure to harmful content and help them develop other important skills. 
Katie Brenneman is a passionate writer specializing in lifestyle, mental health, education, and fitness-related content. When she isn't writing, you can find her with her nose buried in a book or hiking with her dog, Charlie. To connect with Katie, you can follow her on Twitter.