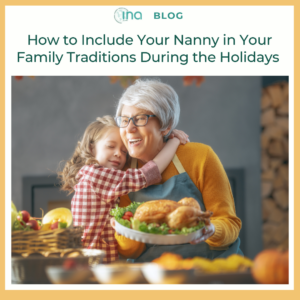 Your nanny is a special part of your family. Throughout the year, they provide attentive care to your children and it is important to recognize their important role. As the holiday season approaches, it is easy to get caught up in the many events, errands and other hustle and bustle. While this time of year gets busy, it is also full of special traditions. Including your nanny in those is easy, too. Here are some ways you can easily invite your nanny into the family traditions that you hold dear.  
Invite your nanny along.
Whether it's decorating the Christmas tree, making gingerbread houses, eating Christmas dinner, baking holiday cookies, caroling through the neighborhood, or lighting the menorah, welcoming your nanny into your yearly traditions makes them feel included and appreciated.
Establish traditions that are unique to your nanny.
Your nanny might have some fun ideas that they want to do with the children, too. Maybe it is making holiday paper chains or paper snowflakes, or it is doing a scavenger hunt that the nanny creates on a certain day of the year. Ask your nanny if they have any ideas that they want to do with the children and go with it. This helps the kids build a solid bond with the nanny and also gives them something to look forward to as part of your nanny's long-standing working relationship with your family.
Give back to others.
It is important to remind children that this is a season of giving. Work with your nanny to come up with some ways you can give back to those in your community. Find a local giving tree and let the nanny go shopping with the children to pick out the gifts. Or sponsor a child overseas for a year and have the nanny work with the kids throughout the year to write letters and mail them. Maybe the nanny and your children can make a meal and deliver it to an elderly person in your neighborhood. There are lots of ways to give back to people locally and doing so helps instill a spirit of gratitude in your children. Working as a partner with your nanny can be a great way to teach your kids while also doing something great for people in need.
Last but not least, consider making it a tradition to recognize your nanny's hard work with a holiday gift or bonus. This is a wonderful way to show your deep appreciation for their service to your family.
Our team at International Nanny Association sends you the warmest wishes to you and your home for a happy and healthy 2022 holiday season!