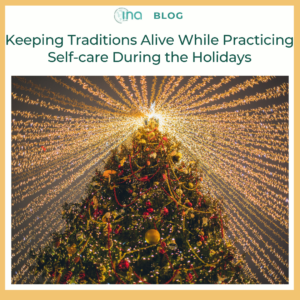 With the holidays right around the corner, people might already be feeling pressure about what's coming. While this time of year is full of special events and the opportunity for memory making, the holidays can also be accompanied by a list of obligations that can feel overwhelming at times. So, as you think toward what traditions you love most during the holiday season, don't forget to prioritize self-care amid everything. Here are some tips on how to do that. 

Keep Comfortability in Mind
Whether it's decorating for Thanksgiving, Christmas, Hanukkah, or putting special décor out to ring in the new year, decorating your living space with festive items is a highlight of the season for many. However, it's easy to get overloaded with all of the 'stuff', and sometimes it can feel more like clutter than special décor. So, if one of your holiday traditions is decking the halls – and everywhere else – keep in mind that your comfort should always be at the forefront. If you don't want to use traditional colors, symbols, or lights, it's okay. Pick things that bring you a sense of peace, calm, and joy. Use items or scents that remind you of a special time or place. This can help make your home more comfortable and relaxing during a busy time. 

Give To Yourself 
Holiday shopping is a fun tradition for many. And while the season is about giving to others, it's okay to prioritize appreciating yourself. Maybe it's a card of encouragement that you keep in your car or posted on a mirror at home where you can see it. Perhaps it's treating yourself to a fancy cup of coffee or a decadent bakery treat that you don't normally splurge on. Giving to yourself – even in the smallest of ways – can help strengthen you as you head through a hectic couple of months. 

Set Expectations
Upholding family traditions is very special and can be a nostalgic experience that brings joy. But, if you or others are putting pressure on you to participate in everything and you simply don't have the time or mental capacity, it's okay. Set reasonable expectations that you know you can meet. If you set expectations that are unreasonable, you and probably others around you will end up feeling discouraged or disappointed. Setting boundaries helps alleviate carrying unnecessary burdens around. 
Whether your holiday traditions are simple or elaborate, our team at the International Nanny Association wishes that you find peace, happiness, and joy in the midst of it all.