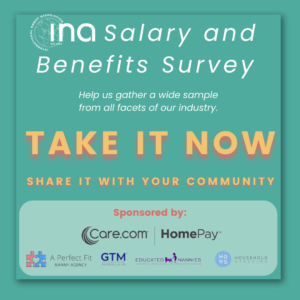 The INA Salary and Benefits Survey is HERE and we NEED YOUR HELP to gather the largest number of responses from the widest sample of the industry ever. If you worked as a Nanny, Speciality Nanny, or Newborn Care Specialist during 2022, please TAKE IT NOW!
New to this year's survey, we are separating the results of those who are primarily Newborn Care Specialists and providing them with questions geared towards this growing and evolving profession. 
We are asking EVERYONE to share it far and wide! This valuable tool helps Nannies, Newborn Care Specialists, Agencies, and Families discuss appropriate, competitive, and fair wages and benefits. It has been years since the INA has been able to gather this information and now is the time to get quality, updated data!
We are so grateful for the generosity of our top Survey Sponsor Care .com HomePay, and our general sponsors GTM Payroll and HR, Household Staffing, A Perfect Fit Nanny Agency, and Educated Nannies who have all made this year's survey possible.