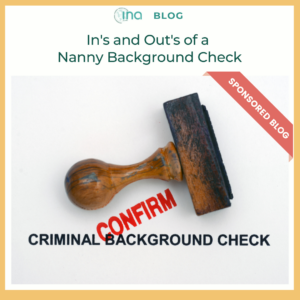 By Essential Screens
When vetting nannies, it's obvious that someone with a history of drug use, violence, theft, and other criminal behaviors would not make the cut. Oftentimes we use phrases like the 'right fit' and someone who 'feels like family' but what does that really mean to you? And more importantly, how do you screen for things that aren't as black and white as criminal charges? At Essential Screens, we understand you aren't just looking for someone who ticks off prerequisite boxes – you require a nanny who fully encompasses the role as an extended member of your family. 
Firstly, we know a criminal background check is an absolute must in this industry. You need absolute certainty that their criminal record is clear, and maybe even want to run an annual recheck to ensure that nothing goes unnoticed post hire. Federal, statewide, and county searches all work together to provide you with a complete criminal history of your applicant – these include felonies, misdemeanors, sex offenses, warrants, and incarceration records. To do this effectively, we use an SSN trace that allows us to find aliases and previous addresses that give a starting point of where to look for criminal activity. 
To gain that full picture we spoke about earlier, however, things like Moter Vehicle Reports (MVRs), professional/personal reference checks, social media screenings, and of course sex offender and child abuse and neglect registry checks are a necessity. 
Let's start with driving records; an MVR is necessary if your nanny will be toting your precious cargo to school, soccer practice, and countless birthday parties. MVRs contain more than just traffic violations, but collisions, suspensions, and even failures to appear in court. 
Professional and personal references are an excellent way to decipher someone's character – if you know the right questions to ask. And of course, no one knows what you're looking for better than you do, so we encourage you to use not only our pre-set questions but to create your own personal questions as well. This customizable feature is perhaps one of the best tools to really challenge references to give honest and thoughtful answers.
Another fantastic tool to utilize is our social media screening. It's 2023 and we all know how prevalent social media is in our everyday lives. It seems like we're always posting, liking, or commenting on one platform or another. Social media screens search applicant profiles and activity logs on platforms like Facebook, Instagram, Twitter, and more. Things like hate speech, obscene language, violent images, explicit/racy images, and more can be located and shed some serious light on who your applicant is. 
Lastly, you'll want to add a sex offender registry check along with a child abuse and neglect records check to your searches. We know that while you may be willing to overlook a speeding ticket, sex offenses and child specific crimes are an area that is non-negotiable in your home. 
We also understand that oftentimes the reports that come back can be confusing and hard to understand. With Essential Screens, our easy-to-read reports leave nothing to question. We're experts at what we do and strive to educate our clients as well. To make things even easier, your calls will never be directed to a call center or automated messaging system as all our friendly staff are trained and ready to help! Everything we've spoken about today is 100% customizable to your specific needs. We work with you to create background checks that leave you with peace of mind that no stone has gone unturned, and every effort is made to keep your children safe!