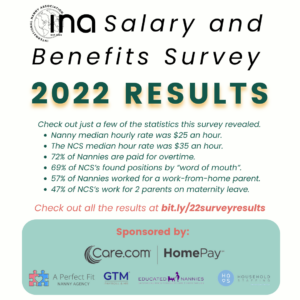 The anticipated results from INA's 2022 Salary and Benefits Survey are here! There is so much data to look through but we wanted to share a few of the insights that we found interesting. 
Nanny median hourly rate went from $19 an hour in 2017 to $25 an hour in 2022. 

The NCS median hour rate was $35 an hour. 

72% of Nannies are paid for overtime which is up from 58% in 2017. 

69% of NCS's found positions by "word of mouth" and 76% of NCS's worked more than 30 weeks in 2022. 

Nannies and NCS's are finding jobs through local placement agencies more often then from online recruiting sites which is switched from what it was in 2017 

In 2017, 17% of Nannies worked for a family where at least one parent worked from home. That is now up to 57% in 2022. 

47% of NCS's work for a couple with both parents on maternity leave.
We want to thank everyone who participated in this survey; those who took the survey, those who shared the survey, and especially our Salary Survey Sponsors.