We value you as a business owner.
We see you as a leader in your community.
We support you with resources.
We appreciate you as a member.
We've got you covered.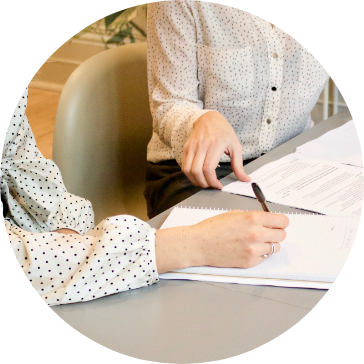 Become a member and get involved!
Post your jobs to a global market
Attend virtual and in-person events
Tools for onboarding caregivers
Tips for starting and growing your business
Help supporting your nannies
We support your business with professional industry resources.
The Role of Placement Agencies in the Industry
Nanny placement agencies play a valuable role in the in-home child care industry. As service companies, placement agencies strive to match the skills and qualifications of nannies with the needs and preferences of families seeking an in-home child care provider.
Members of the International Nan­ny Association agree to abide by INA's Commitment to Professional Excellence and Recommended Practices.
Business Staff
INA Placement Agency members are able to name 3 staff members under your membership as INA Business Staff Members. This enables the staff person the ability to have the same access to INA Member benefits like posting on the Job Board, attendance at INA Webinars, discounted Conference Attendance, and other member benefits. Reach out to the office at memberservices@nanny.org to set up these 3 complimentary member accounts under yours.
Monthly Webinars
The INA hosts webinars monthly that are open to the public for free (or a small fee). All the topics support the nanny industry and are a great way to learn something new or brush-up on some skills you already have. Find upcoming Webinars HERE.
Chapters 
New in 2021, INA Chapters are back. We have 7 local Chapters across the globe that provide quarterly meetings (all virtual in 2021) with educational resources and networking built right in. Find upcoming chapter meetings HERE. 
Resource Library
The INA is building a digital library designed for your needs. Find what you need to help you further your career and find answers to your questions. Our Resource Library is still being built and we would welcome any thoughts on topics to add to it.  
YouTube Channel 
Many of our past Webinars, Chapter Meetings, and other educational events can be found on our YouTube Channel. Check it out and subscribe so you see when we post something new!
Nanny Employer Handbook
Working with a family that needs some direction? Share this free tool with them and use it yourself as your go-to resource for nanny work agreements, fair pay, tax information, and so much more. 
INA Conference
While the INA has become so much more than an annual conference, it is still the best way to connect, gain knowledge, and expand your career. Check out details on the next conference HERE.
The Nanny and NCS Credential Exam tests a caregiver's working knowledge of children, their developmental needs, and how to meet those needs in an in-home child care environment. It is taken online* with a virtual proctor. It has 100 multiple choice questions and you have 120 minutes to complete it. To take the exam you will need to provide the INA with proof of a valid and current CPR and First Aid Certification and a photo ID. 
Placement Agencies can coordinate a time that their Nannies or NCS can take the exam together or encourage them to take it online on their own. Agencies can also promote their caregivers who are INA Credentialed Nannies or NCS to the families they work. 
*Special circumstances for those who cannot take the exam online may be requested and will be accepted on a case-by-case basis. Please email admin@nanny.org for more information. 
You can purchase the exam on our Estore and will receive further details on your next steps once you purchase. Find information about the exam HERE. 
Business Support
Business Membership Support is here to help business members get the most out of their INA membership. We provide guidance on job postings, upcoming events, and can provide recommendations and direction to find additional support. To access support for your INA Member Business, reach out at memberservices@nanny.org.
INA Members can post their childcare jobs on our Job Board. Your available positions will not only appear on the INA Website but they will also be posted within 48 hours to our INA Facebook Job Board page. 
If you are looking for an internal job (administrative work for your company) you can purchase  Internal Job Advertising and INA will post your job offer through our social media or in email marketing.
INA Recommended Practices for Nannies, Support Groups, and More 
The INA has worked to bring standards to the nanny industry for over 35 years and the Board will continue to work to support the whole industry. You can find the full list of Recommended Practices HERE but be sure to check out the Nanny Recommended Practices and the Support Group Recommended Practices today. 
Childcare Definitions 
There are a variety of terms for people who work in the home. The INA has compiled the industry standards. Click the topic to see the definition. 

Nannies Rights
While each country of employment has its own labor rights, we at the INA believe that nanny rights are basic rights. 
UK Labor Rights

Canadian Labor Rights

Australian Labor Rights

Mandatory Reporting 
As professional childcare providers, in the US, Nannies are mandated reporters of suspected child abuse. While each country is different, we believe that nannies across the globe have an obligation to protect not just the children in their care but any children they come in contact with. To learn more about what this means and support to report suspected child abuse, find details HERE. 
Taxes and Payroll 
Placement Agencies work with Nanny Employers and caregivers who often have questions about taxes, payroll, and what is the correct way to manage it all. Each country has different laws pertaining to how to manage these details. We have compiled some facts for those in the US and resources to go to for those outside the US facing these questions. If you have further questions, we recommend that you discuss your particular situation with a qualified, reputable professional. Several well known household payroll services are INA members, and you may also consider using your accountant or attorney as a resource.
Surveillance Cameras 
Surveillance devices are very common in many places of employment. The International Nanny Association (INA) offers guidelines regarding cameras for supervisory purposes that can be found HERE.
Salary Survey 
Every few years the INA sponsors a survey to provide credible salary and benefit information about in-home child care professionals. It highlights the effects of training and experience on salary and benefits and monitors salary and benefit changes over time. Find the latest survey results as well as past surveys HERE. 
Global Affairs 
The INA encourages you to be aware of any propositions or pending legislation that may have an effect on the in-home child care industry. Please notify the INA Global Affairs Committee of any such action in your own state or country, so that our membership may help direct and educate the legislators who are involved. INA must be a proactive association and we value your input.
Check out the latest legislative developments HERE.
Service Award Pin
The INA strives to recognize all nannies, and all in-home childcare professionals for their dedication to their career. The INA Service Award Pin Program was founded to do just that. You can apply for the Service Award Pin in 5 year increments. Those pin recipients who are present at the Annual Conference will be recognized for their service, however, you are not required to attend the conference to receive your pin. Find the full details HERE.
Nanny of the Year™ – NOTY™  
The NOTY™ award is presented annually by the INA to recognize the personal achievements of a working nanny who represents a positive role model for our industry and association. 
To become the next NOTY, you must have been working full time in the industry for at least 5 years, be a current INA member, be nominated by someone other than yourself, and be willing to perform specific duties during your time as the current NOTY. Attendance at the annual conference is no longer required but you will be asked to help us create a video to introduce you to our audience. Find the full details as well as past NOTY recipients HERE. 
Member Specific Resources
INA Membership Flyer 
We believe there is strength in numbers and that together, we can make a difference. As an INA member, you're partnering with us to professionalize our industry, to promote quality in-home child care, to increase awareness about the nanny profession, and to educate parents about the benefits of hiring a qualified nanny to care for their children. Encourage others to join by sharing this Membership Flyer with them so they can see all the benefits of INA membership too. 
INA Member Facebook Group 
The INA Membership Facebook Group is a highly professional social media forum where only INA Members, of all categories, can interact. Being a part of this group adds value to the INA membership through group discussions and other exclusive communication.
Discounts 
In addition to discounts on products like the Credential Exam, Basic Skills Assessment, and Annual Conference, INA Members can also receive special offers from other companies that value what the INA stands for. Check out a list of our current Member Advantage Providers. Members can find details and directions on how to take advantage of these discounts by login into their member portal and clicking "Member Benefits" on the navigation bar.
Serve the industry through INA Volunteering
Do you want to feel more involved in the INA, get to know other professionals and help our association? You should volunteer on a committee! We'd love for you to connect with us, tell us your individual skills and availability. Then, we will plug you in on a committee that fits! You can find a list of our Committees HERE. Reach out to the INA Office today and we will put you in touch with a committee chair that needs help. memberservices@nanny.org
Become a Board of Directors Member 
Do you have ideas that will help strengthen and grow the industry? Do you want to help unite the nanny community? Do you like to see things get done? Then consider nomination to the INA Board of Directors. All those who have been members for at least 1 year are qualified to be nominated. Nominations are held in November and December for the following fiscal year (August – July) Find the full details on what qualifications the Nominations Committee is looking for and what the process looks like HERE.