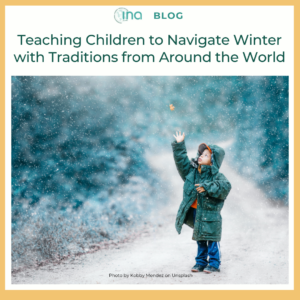 Winter can be a difficult time for families, children, and their caretakers. You can't take the kids out to the park in the rain, and children sometimes struggle with the cold, dark, short days. 
However, as a nanny, you can bring excitement and intrigue into the winter season by teaching children about winter traditions from around the world. Learning about global traditions will help educate the children you care for while you all get to enjoy a warm cup of cocoa. 
Koselig and Hygge
Rather than getting bogged down with the winter blues, help your children adopt a Scandinavian approach to winter. In Scandinavian countries like Norway and Denmark, people love the winter and avoid seasonal affective disorder (SAD). 
Adopt a positive winter mindset and embrace traditions like Koselig and Hygge. Take up indoor activities together like sewing, knitting, and writing stories together. If you live in an area where it snows, make the time special by teaching the children you nanny how to ski or snowshoe. 
Winter can be a magical time for your children with the right mindset. So, stockpile your blankets, get your knitting needles ready, and queue up some great family-friendly movies to enjoy together. 
Little Day of Candles
Children can develop optimism by learning nontraditional hobbies and activities. As a nanny, you can help your children how to enjoy winter by teaching them about traditions like Columbia's Little Day of Candles. 
The Little Day of Candles is celebrated in Columbia on the 7th of December. Across Columbia, people light candles and set light displays to celebrate the eve of the immaculate conception. You don't have to be religious to celebrate this holiday, and the children you nanny for will take great joy in setting up a light/candle display in their homes. 
Set the children up with different types of lighting and turn all the normal house lights off. Make it extra special by hosting a countdown to turn the special lights on, and let the children enjoy the magic of candlelight and colorful LEDs. 
Heirlooms and Traditions
Zampognari is an Italian tradition that involves the playing of bagpipes. Many of the bagpipes that are played are heirlooms that have been passed down through generations. They traditionally play Christmas music and wear peaked caps. 
You don't have to buy a bagpipe to enjoy heirlooms and traditions. Put some Zampognari music on in the background and coordinate with the children's parents so you can get out old pictures, letters, and jewelry to help children connect with their past. 
If you have permission, you can even experiment with the art of maintaining heirlooms so children have a direct connection with the materials. Once the children have finished looking at old pictures or letters, organize them in a way that makes sense to the family. You can then have the children store delicate materials in air-tight bags and boxes for better preservation. 
Some children have a hard time during the winter. They can't play outside and may miss the warm summer days. However, you can help children love the winter by embracing traditions like Hygge, the Little Day of Candles, and Zampognari. So, gather up your blankets, put up a light display, and learn to enjoy the shorter days and cozy evenings. 
Katie Brenneman is a passionate writer specializing in lifestyle, mental health, education, and fitness-related content. When she isn't writing, you can find her with her nose buried in a book or hiking with her dog, Charlie. To connect with Katie, you can follow her on Twitter.