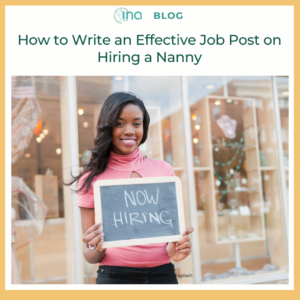 By Jeff Peters
Are you looking for the perfect nanny to care for your child or children but don't know where to start when posting a job? No worries, here's a great place to start. When posting a job for a nanny, your main goal should be to hire the best and most suitable applicant to care for your child. It is also important to provide enough information so the applicant can make an informed decision about why they need to work with this family.
Family
Begin by providing a brief description of your family; this should primarily focus on the children. "So, include the number of children they will be responsible for, their ages, as well as a little about their background, such as preferences (likes and dislikes)," advises Rebecca Mitchell, an HR manager at SolidEssay and ConfidentWriters. You can also include yours, a little of your parenting styles whether it is a religious or family tradition or daily routines that you would like them to adhere to or follow, or just the basics that you require to help you narrow down your search for the individual you would need. This will also provide the applicant with information about the family with whom they will be working as well as your expectations.
For example: We are a family of four looking for a caring, patient, and dependable nanny to care for our three and six-year-old children. Our three-year-old son is a very active boy who enjoys exploring and frequently asks questions. Six-year-old girl, on the other hand, is a little reserved and prefers to read in a quiet place. We would prefer someone with at least three years of experience in this capacity. You will work part-time from Monday through Friday between the hours of 2:00 PM -7:00 PM as both children attend school.  On occasion, there will also be additional hours available on the weekend.
Duties
This is the most important part of the process; make a list of the specific duties that your ideal nanny will be expected to perform and be very clear and reasonable with your expectations so the applicant knows exactly what they are signing up for. Please see the following example:
Your duties will include daily pick up of the children from school at 2:30 pm.

Assist with their homework as well as revision of work done for the day at school.

Care/ Supervision for them (bath, meals, and nap time where required)

Tidy up play areas and children's rooms.

Ensure children's safety during indoor and outdoor activities.
Compensation
To make your ad competitive, include your hourly rate. "Consider the duties that the individual will be expected to perform and be fair and reasonable in setting your hourly rate," says Amanda Stone, a children's writer and editor at BeeStudent and Paper-Research. At the interview, additional compensation and benefits can be discussed.
Requirement
Trustworthiness is one of the main attributes we all look for when hiring a nanny and as such this critical part of the process aids in narrowing down the application process by stating the requirements that applicants must meet in order to be considered for an interview. We are not saying that once an applicant passes all the requirements they are trustworthy but this is a start.
Please see the example below:
Driver's license and clean driving record

Identification card

First Aid Certification

Police record

At least 3 years working in a similar position

You will be required to pass a background check

Two references
Finding the right nanny for your specific needs for your child or children can be a time-consuming process if done incorrectly, so it's critical to get all of the important details acknowledged from the start. This simplifies the process for both the applicant and the employer while also saving time.
Jeff Peters is an editor at SwiftPapers. He also contributes to multiple educational publications such as EssayTask and ResearchOver where he shares insights about college life and writing tips.