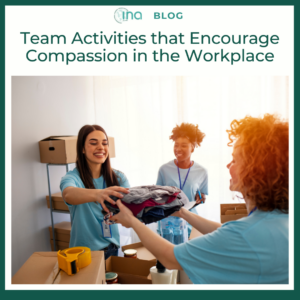 Work is a busy place – people are likely focused on deadlines, meeting project goals, and ensuring clients get what they need. In the hustle and bustle of day-to-day work, it is easy to forget about extending compassion to others around you. However, this is an important part of creating a culture that supports each other. Here are some tips on how to encourage compassion in the workplace.
#1: Encourage each other.
Compassion is reflected through communication. So, make a point to encourage the people on your team. Maybe that is writing a handwritten thank you note once a month expressing your appreciation for a job well done. Perhaps it means coordinating a catered lunch that gives your employees a break to sit back and nourish their bodies. Or maybe it's providing a monetary bonus every quarter. This type of encouragement not only shows that you are compassionate, but that you are generous and supportive.
#2: Be thoughtful.
Emotions are real and sometimes they come to the surface at work. If they do, be aware of them and acknowledge them. Take ownership if your words triggered negative emotions and work on providing a way for people to express their emotions if needed.
#3: Turn outward.
One of the best ways to look beyond yourself and your own world at work is by fixing your gaze outward. Look at your local community. What projects could you and your team work on together that could not only help the community, but could also bring you closer together? Perhaps it is volunteering at a local food bank, doing a fundraiser in the office for a local school, or setting aside one full workday to go volunteer at a homeless shelter or hospital. Turning your efforts outward helps instill a sense of compassion and helps open your eyes to what is around you, rather than what is right in front of you.
Compassionate leadership in the office is possible. It is well worth the effort. Not only does it build a better professional culture, but it also helps encourage the people that work with you to be kinder, more empathetic people. This translates to a culture that has a growth mindset and that is focused on serving others more than themselves.