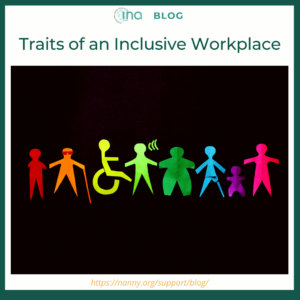 As a business owner or manager, it is important to ensure that your team is valued not only for their experience and expertise, but for what makes them unique as individuals. Creating an inclusive workplace that embraces each person's diverse backgrounds and perspectives. But it's important that diverse workplaces aren't necessarily inclusive, and vice versa.
An inclusive workplace makes people feel not only valued, but welcome and integrated into it, too. Each person has the same access to opportunities and advancement, and people are encouraged to maintain ongoing communication about responsibilities and the growth of the company.
Here are some essential traits of an inclusive workplace.
#1: Actions speak louder than words.
Inclusive companies have employees – especially those at the top – that demonstrate exactly what inclusivity means. Executives must model what being inclusive means by treating everyone with respect, creating and walking out inclusive practices, and by ensuring that resources are allotted to organizations, activities, or other causes that boost inclusion.
#2: Give people a voice.
Welcoming people to the table is a start but giving them a voice is what really matters. Doing this makes employees feel integrated into the fabric of the company culture and it makes them feel valued for what they have to offer. Inclusive workplaces give everyone the opportunity to freely share their thoughts and ideas.
#3: Create space.
If you expect your employees to value and include each other in their lives, you must make space for that in the workplace. So, make sure there is a break room, lunchroom, or somewhere else that employees can sit and connect. Consider adding a 'fun' room that has games, a ping pong table, or other activities that encourage people to relax and have fun together. In addition, offer spaces and time both onsite and offsite, for employees to discuss important topics in a way that is safe and life-giving.  
#4: Train.
Everyone has different backgrounds and experiences and with that comes biases. Sometimes, they are not even intentional, but they can pose a problem when discovered. Develop training and education or hire professionals that are well versed in inclusivity and diversity training that can help people recognize how to be more sensitive, balance their biases, and embrace each person's uniqueness.
Creating an inclusive work environment has many benefits, too. Employees are more productive, they have a greater sense of loyalty, and there is improved collaboration among each other. Taking the time to promote inclusivity and motivate employees to remember it during their daily interactions with one another is well worth it.