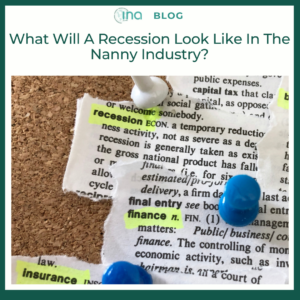 By Adventure Nannies
As we have seen multiple times throughout the pandemic, once again dramatic shifts in expectations from both the families and candidates we work with are happening. In 2020, many families were facing what they viewed as a short-term childcare emergency and finding reliable childcare felt paramount to keeping their children up-to-date with virtual school and ensuring parents were still able to work from home during lockdowns and shifting expectations from their businesses.
In the past few months, families' priorities have shifted again. According to the Bureau of Labor Statistics, food prices were 9.4% higher in April 2022 than in April 2021 – the largest annual increase in 41 years. Daycares and family members are now a much more necessary option for families seeking childcare, and in some parts of the country, nanny rates have risen so dramatically that families are no longer even considering hiring a nanny as a viable full-time option. Due to ongoing concerns about a pending recession and the increasing costs for rent and basic goods, more and more people without childcare experience, certifications or qualifications are turning to nannying or occasional childcare as a "side hustle" or an opportunity to earn some much-needed side cash, which we know also alters our landscape and the educational work many of us has invested in professionalizing our industry.
Simultaneously, inflation has risen to out-of-control numbers that have skyrocketed basic living costs. The stock market has been in major flux and many businesses have initiated hiring freezes as a sign of preparing for a recession. According to Federal Reserve Chair Jerome Powell, the current job market is "unsustainably hot". Wages have been rising at a fast clip in an economy where the unemployment rate is at 3.6%, which is very close to its pre-pandemic low. "You have two job vacancies essentially for every person actively seeking a job, and that has led to a real imbalance in wage negotiating," Powell said when answering questions at a press conference.
At Adventure Nannies, we have already seen this begin to influence the way that families are seeking nannies. As things continue to develop and as many folks prepare for a recession in unique ways, we wanted to loop you in to some of the shifts in our industry that we are noticing right now. Our insights are not shared to instill fear in anyone, but rather for you to begin considering how the current landscape may continue to shift in the next few months and how it may impact your career and job search so that you can be prepared to notice, and shift, as the industry does.
More flexibility in roles and responsibilities.
As families brace for a recession, one of the first changes we typically see is families auditing the responsibilities and assistance they have in their homes and finding ways to more heavily rely on fewer employees to complete more tasks. If you find yourself in the position of wanting to add more value to your current role, consider speaking with your employer to see if there are tasks you may be able to take on to support the efficient management of the home. One great place to start would be to develop a household manual to determine which areas need additional support, then propose specific ways you could fill that need.
Less of a sense of urgency, and a desire to seek the best fit.
Presenting your expertise to hiring families in your resume is more important than ever, and setting yourself apart from other candidates is key to finding the best job to suit your needs in this competitive environment. In the face of economic uncertainty, we're finding that families are committed to hiring a candidate who is more likely to be the right fit for the foreseeable future, and starting that working relationship off on the right foot is vital to the long-term success of your new position.
Awareness of potential future economic shifts.
One key measure that candidates can advocate for as they negotiate their contract is a total compensation package which can serve as a tax advantage for both employee and employer and can also provide extra peace of mind if a position does end suddenly. Candidates are more and more often willing to take a slightly lower hourly rate in exchange for enhanced healthcare or retirement benefits, or other non-compensatory perks of the position (such as open kitchen policies, travel perks, additional time off, or more generous severance packages.)
A drive and willingness to make less-than-ideal situations work.
Many families have discussed starting a nanny search with Adventure Nannies, only to realize their family is not in an ideal spot to be making a significant shift in their household dynamics. Both families and candidates have been more willing to stick out situations that are not quite ideal or in alignment with their long-term plans, or to have more open, vulnerable conversations to be able to move forward in their relationships, rather than calling them quits and moving on. Fostering an open, respectful working relationship with the hiring family goes a long way in navigating these challenging moments, and we recommend investing time and energy in developing that pattern of clear communication from day one.
A return to pre-COVID rates.
In times of economic turbulence, many families are trying to create lasting solutions that may also account for one or both parents losing their jobs, or having their positions cut back in various ways. While at the height of COVID hiring in 2021, there was such an overwhelming demand for quality nannies and educators that many families were willing to pay $40-$60+ per hour, now that another COVID shutdown feels less imminent and families are realizing their next hires will hopefully last for many years, families are being more economical in terms of setting an hourly rate that is fair and comparable with the area's cost of living, rather than being willing to pay "anything" with the knowledge that this is a temporary childcare solution.
Navigating the ever-changing landscape of this pandemic continues to be challenging, but one thing remains true – as compassionate, experienced nannies, newborn care specialists, and agencies, we are uniquely skilled at embracing ambiguity, adjusting our expectations at a moment's notice, and finding the bright spots in difficult moments. In the weeks and months ahead, we will continue to look for additional ways that we can support and champion the incredible work accomplished within this industry, looking ahead with hopeful optimism and indomitable perseverance. We hope these tips have been useful in helping you prepare for your next transition, and please feel free to check out these other resources which Adventure Nannies provides free to the nanny community!

Adventure Nannies is a private recruitment agency that works with nannies, private educators, and newborn care specialists to help them find professional job opportunities with progressive, dynamic families across the United States.