We want to invite you to register for the 35th INA Annual Conference, April 30 – May 3, 2020. This year's international location will provide an exciting array of exceptional learning options, unique networking opportunities, and lots of fun to go along with it. Early Bird pricing ends January 31, 2020 but act fast because our space is limited this year. You don't want to miss our special Anniversary Conference.
There is a lot of information in this email but first, take a look at our 2020 promotional video. Please feel free to share it on your social media of choice. 
2020 Conference Rates
Members must be logged into their member portal to receive the member rate.
Registration Includes:
Nine full hours of workshops on Thursday, Friday, and Saturday
Thursday off-site Welcome Reception
Friday & Saturday breakfast
Friday Keynote Address
Networking Breaks
Friday Award Luncheon
Saturday Annual Meeting Luncheon
Saturday Closing Reception
WIFI in the hotel
Vendor Marketplace Friday and Saturday
Not Included:
Thursday morning City Tour (see registration link below)
Professional headshots (sign-up on conference registration form)
Optional off-site dinners
Parking
Transportation
Cancellations and transfers:
INA Conference Registration is refundable, minus a $75 processing fee if canceled by March 31, 2020.
To transfer your registration to another individual before March 31, 2020, you must fill out this form and pay the $25 transfer fee (#8) from our Estore.
Starting April 1  – No refunds and no transfers
Montreal Three-hour City Tour
Purchase your ticket directly through the travel company. Register HERE
Departure point: Lobby of the Delta Hotel Montréal (475 Avenue du Président-Kennedy, Montréal, QC H3A 1J7)
Tour takes place "rain or shine". No exceptions.
The cut-off date for tour registration is Monday, March 30th, 2020.
No exchanges or reimbursements will be accepted after the cut-off date on Monday, March 30, 2020.
This tour has a minimum number of participants required to take place. If the minimum number of participants has not been reached by Monday, March 30th, 2020, the tour will be canceled and you will be reimbursed on the credit card used for purchase.
Please present yourself 10 minutes prior to the scheduled departure time.
VDM Global reserves the right to modify this tour (if one of the attractions or establishments is no longer available at the time that the activity will take place).
Gratuities to the guide are at your discretion.
For questions, e-mail us at info@vdmglobal.com.
Introducing our 2020 Keynote Speaker. 
Alyson Schafer B.Sc. MA Counseling is one of Canada's most notable parenting experts. She is a family counselor with a  clinical practice in Toronto, and the author of 3 best-selling parenting books; Breaking the Good  Mom Myth, Honey I Wrecked The Kids, and Ain't Misbehavin' which have been translated into  Russian, Korean, Bulgarian and Turkish.
Alyson is a 3 time TEDx speaker and has presented to audiences in Uruguay, Bulgaria, Belgium, and Switzerland. At home, she is the creator and host of the TV show "The Parenting Show" as well as being the resident parenting expert for many other media outlets such as; The Marilyn Denis Show, Global Morning, CBC radio and HuffPost Parents Canada.
Alyson delivers her deep insights in ways that today's busy parents and child caregivers can easily understand and immediately apply. She promotes a firm but friendly "democratic parenting" style and offers practical solutions backed by extensive research and 20 years of working with families.
Her Keynote Topic will be The Plague and Perils of Perfectionism
Our culture celebrates achievement. From the youngest of ages, we are quietly taught that we should quest to be the best. In families, schools and the workplace, trophies and merit pins of some sort are doled out to honor personal success. And while many of those who do achieve take great pride in their success, it comes at a cost. A cost that goes unnoticed and takes its toll on human performance, happiness, and even mental health in the long run.
In this keynote, Alyson will discuss the psychological underpinnings of motivation and the ideal of perfectionism; the mistaken beliefs we conclude about ourselves and our worth when we focus on perfection as a goal; and how to both re-shape our thinking so perfectionism loosens its grip on us and ultimately to prevent it from being passed on to our children.
Is it your first conference?
Let us connect you with a Conference Guide who will reach out to you before conference to answer questions, let you know what to expect, and help you feel more comfortable coming to conference for the first time. You will also have a chance to ask for this in your registration.
Deborah Davis Conference Grant
INA members can apply for our 2020 Grant where we will give away up to 30 $250 grants toward conference registration. Find the application in your INA member portal under "Forms." The deadline to apply is December 15, 2019. Recipients will be told by January 15, 2020, just in time to register before Early Bird ends.
Looking for a roommate?
When you register, you will be asked if you want to be matched with a roommate. Please give all details that our roommate coordinator will need to help you find a match. Remember we cannot guarantee a roommate match. It is recommended that you reserve a hotel room now and then search for a roommate.
Basic Schedule
Subject to changes.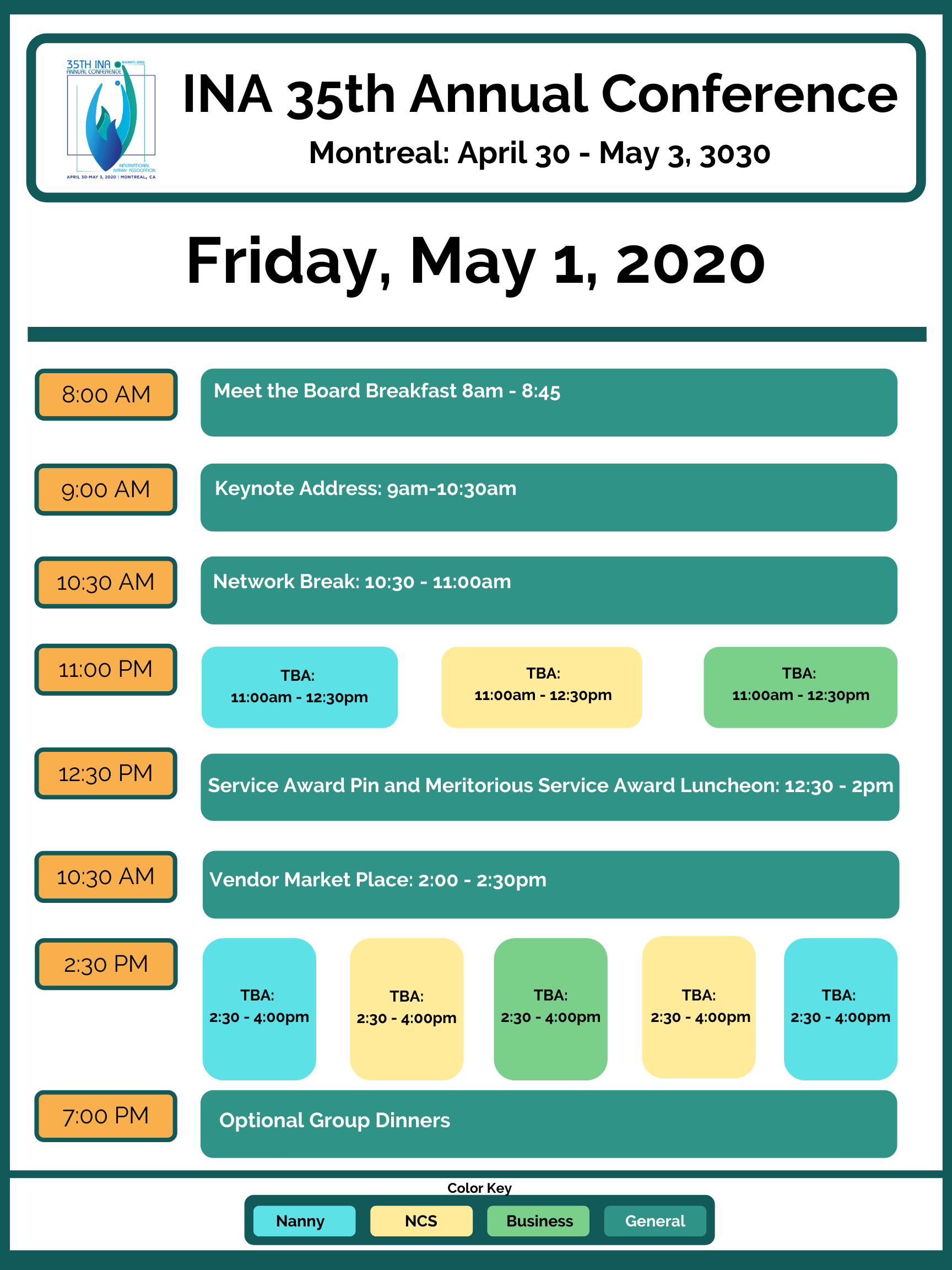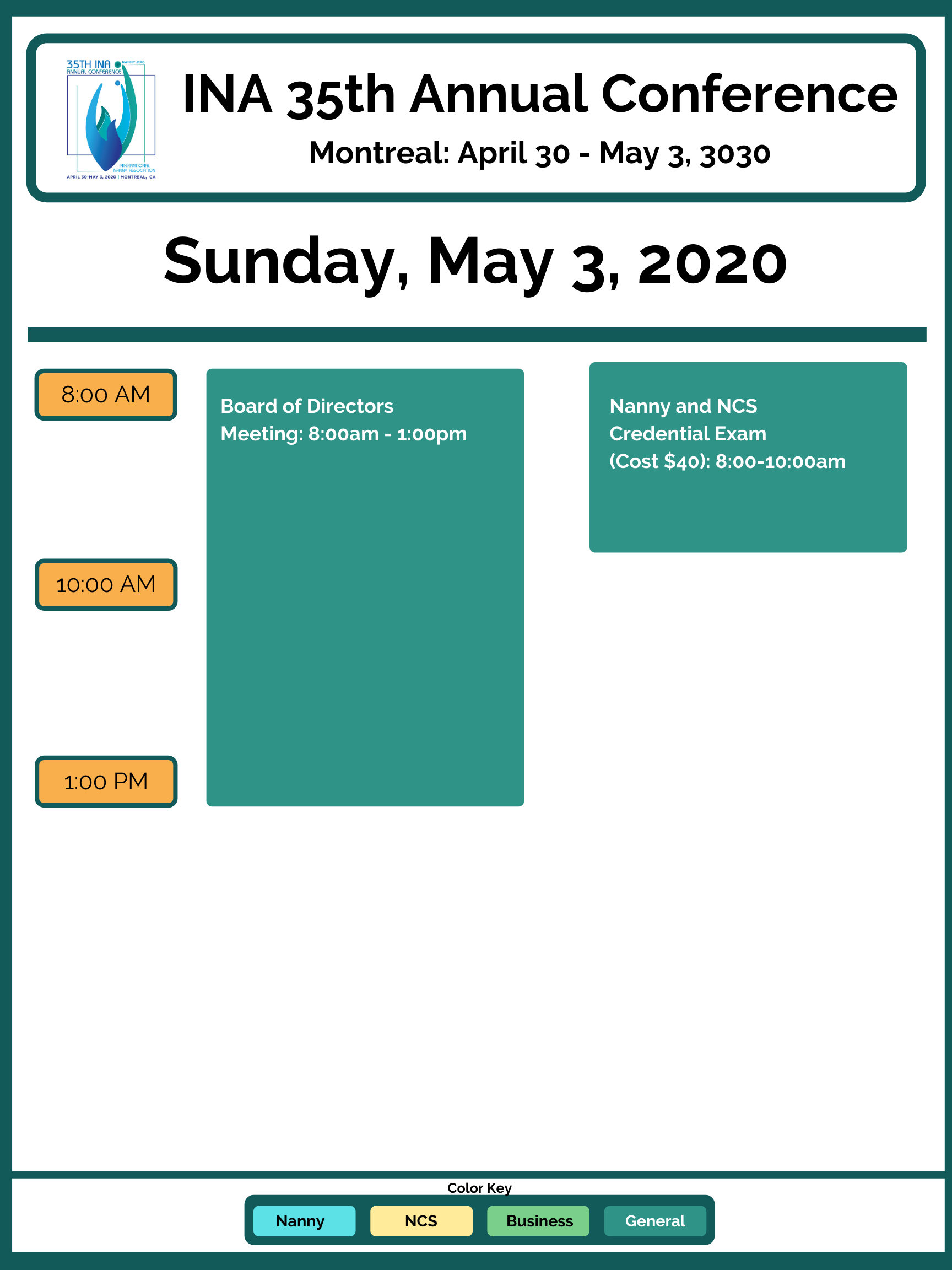 Look for more details as we finalize our Optional Thursday morning City Tour, Opening Reception, Keynote Speaker and Workshops.