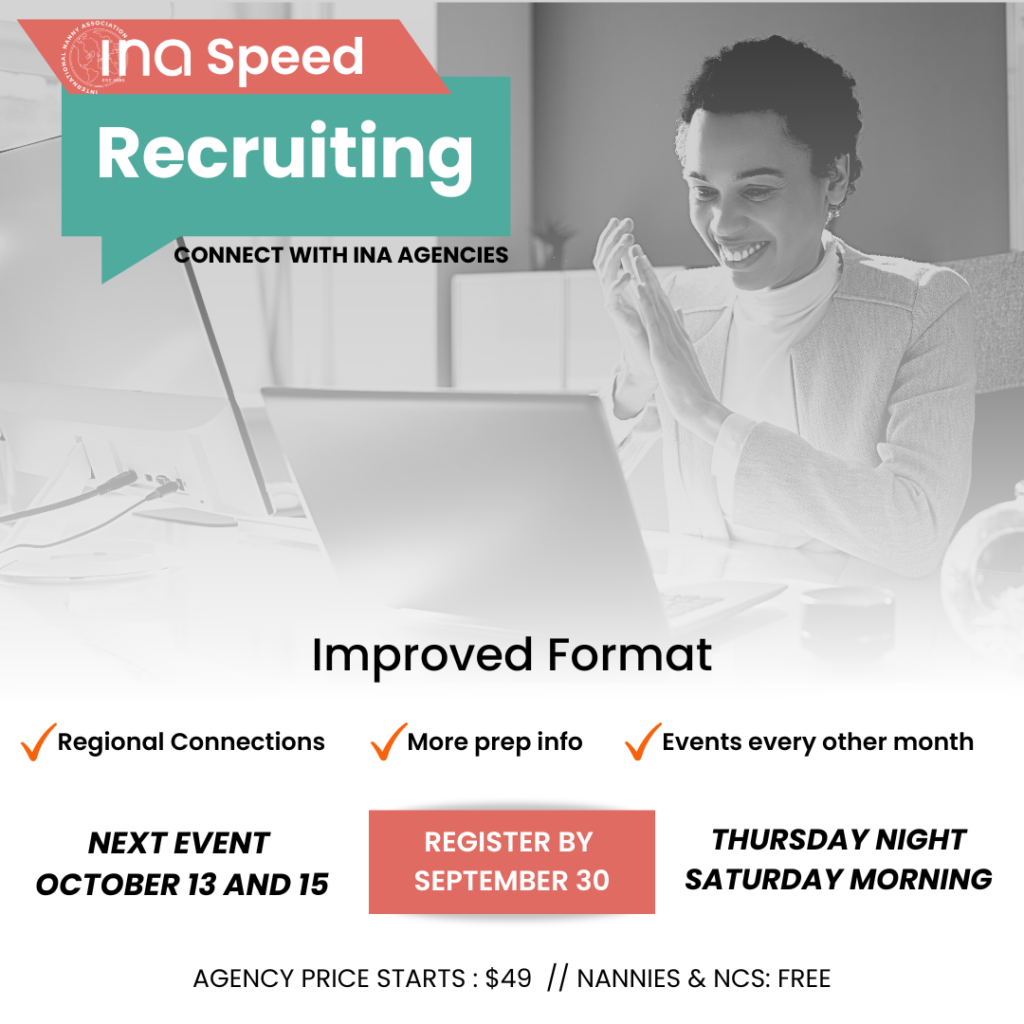 We are excited to bring back this popular virtual event with some updates and improvements. These include:
Groupings by region so that agencies are meeting with nannies and NCS's looking for jobs or connections only within the regions they place. 

Additional information provided to both agencies and nannies/NCS's before the meet-up.

Scheduled meet-ups based on the general availability of nannies and NCS's. 

Prices for agencies based on how many regions you want to sign up for. Starting as low as $49!

The application is open to all nannies and NCS's for FREE.
And the best news is that we will be having a Speed Recruiting event every other month. If you can't make the October event, you can sign up for the December event. More will be coming in 2023 as well. 
October:
Thursday the 13th from 5PM -11PM EST 

Saturday the 15th from 10AM – 2PM EST

Agencies register

HERE

Nannies/NCS's register

HERE
December:
Thursday the 8th from 5PM-11PM EST

Saturday the 10th from 10AM – 2 PM EST

Agencies register

HERE

Nannies/NCS register

HERE
The event itself will run a little differently than it did in our inaugural event. Each hour session will have 5 agencies represented and 5 caregivers all based in a region they place or are looking to be placed. Each group will take turns meeting with all group members for about 10 minutes within that hour. For instance, each agency representative will meet with all 5 caregivers looking to be placed within that region. 
Agencies can select up to 7 regions to be a part of and are encouraged to select those that they place jobs in. These regions are split up the following way. 
Australian Region: Thursdays 5PM-7PM EST 

Southeast Region: Thursdays 6PM-7PM EST (Arkansas, Louisiana, Mississippi, Alabama, Tennessee, Georgia, Florida, North Carolina, South Carolina)

Northeast Region: Thursdays 7PM-8PM EST (Connecticut, Maine, Massachusetts, New Hampshire, Rhode Island, Vermont, New Jersey, New York, Delaware, Pennsylvania)

Eastern Region: Thursday 8PM-9PM EST (Kentucky, Virginia, West Virginia, Washington DC, Maryland)

Midwest Region: Thursdays 9PM-10 PM EST (Minnesota, Wisconsin, Michigan, Illinois, Iowa, Indiana, Missouri, Ohio)

South Central Region: Thursdays 10PM – 11 PM EST (Texas, Oklahoma: New Mexico)

Europe: Saturday 10AM-11AM EST

North Central Region: Saturday 11AM -12PM EST (Montana, North Dakota, South Dakota, Colorado, Nebraska, Kansas, Wyoming)

Southwest Region: Saturday 12PM – 1PM EST (California, Nevada, Arizona, Utah)

Northwest Region: Saturday 1PM-2PM EST (Washington, Oregon, Idaho)
Agency cost is based on how many regions you participate in:
$49 = 1 region

$79 = 2 regions

$104 = 3 regions

$124 = 4 regions

$139 = 5 regions

$149= 6 regions

$154= 7 regions