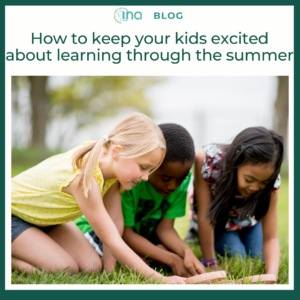 Your children work hard during the school year, so when school lets out for summer, they might feel like learning is the last thing they want to do during their time off. However, it is important to keep their brains engaged and active throughout the summer. The learning doesn't have to be rigorous and exhausting. In fact, there are a variety of continuing fun educational activities out there that you can encourage your kids to do to ensure they are prepared for the new school year. Here are some tips on how to keep your kids excited about learning during summer break.
Create a routine.
The routine that you have during the school year will change during summer break, but it doesn't mean that all routines have to go out the window. At the beginning of summer break, create a general daily routine that integrates learning time. There should be at least 30 minutes to an hour a day built in to keep the kids' skills fresh. Maybe it's practicing multiplication flash cards, completing a workbook that allows them to practice their math and writing skills, or taking up a new educational hobby. Work together with them about the new routine and listen to what educational activities they are interested in, so they feel ownership in the process.
Use screen time as a learning opportunity.
While it is very important to set limits on your children's screen time during the summer, you can also use the time they watch TV or movies to your advantage. For example, have them pick a movie to watch that they are interested in, then have them write a 'report' on it. Or challenge them to create a spin-off of the movie, or to create an alternative ending to the movie. Doing this keeps their brains creatively engaged and helps them stay on top of their grammar and writing skills.
Take some educational outings.
There are plenty of learning opportunities waiting to be experienced around your city or town. Make time to visit local art galleries, museums, or historical sites. By setting aside time to do a couple of day trips, you can not only get out of the house and experience the beauty around you, but you can create learning opportunities surrounding specific topics, people, or the history of your area.
Keep them reading.
Books will forever be one of the best ways to teach your children about topics of all kinds. Take them to the local library or to your favorite bookstore nearby and let them pick out some books about topics that interest them. Work with them to set a goal on how many books they can read over the summer and if they reach that goal, reward them with a prize, gift, or special outing. When rewards are at stake, their motivation will likely be higher.