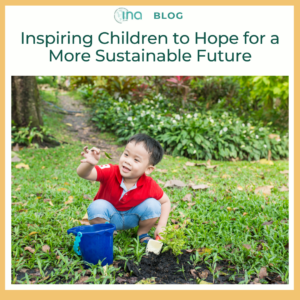 By Katie Brenneman
While we're all living in an uncertain time, it can be especially scary and overwhelming for kids to grow up in a world that seems to have an unstable future. The health of the planet is at stake, and it's up to future generations to take care of it. 
That can be a lot to place on a young person's shoulders, and can contribute to eco-anxiety. 
However, there are things you can do to inspire hope in the next generation, rather than fear, especially when it comes to sustainability. 
Teaching Sustainable Habits
If you've been taking care of kids for any length of time, you already know they're like little sponges, waiting and wanting to learn as much as possible. You can help them to learn more about sustainability and give them hope for a greener tomorrow by making eco-friendly activities fun and exciting. 
Start by spending as much time with them in nature as possible, doing things like: 
Going on a nature hike

Identifying different trees, plants, or insects

Collecting leaves

Planting a vegetable or herb garden
You can also help them make their own DIY terrarium. It's a great way to showcase how ecosystems work, and how even the tiniest creatures have a big impact on the environment. Growing a child's fascination with the environment will inspire them to take better care of it, especially as they get older. 
Be a Sustainable Role Model
It might not always feel like children are paying attention, but they are. They're watching everything you do, so it's essential to be a good role model, especially when it comes to the environment. 
When they see someone they love and admire doing something beneficial for the planet, they'll want to mimic those actions. Your habits can help to inspire the children you care for to "go green" with things like recycling, composting, or reducing waste. Make sure you're recycling things properly, especially when the kids are watching. You can even help them set up a recycling station in their home to make it easier to remember where certain items belong. 
You can even teach lessons to little ones while you're doing something good for the environment. For example, cars are one of the biggest contributors to carbon emissions. Since they're necessary for many people, consider adopting more eco-friendly driving habits, like: 
Driving slower

Accelerating gradually

Keeping your car well-maintained
Whenever possible, ride a bike or walk to your destinations, and explain to the kids that you're trying to help the earth.  
You have a unique opportunity and important responsibility to inspire the next generation. It's up to them to create a more sustainable future, and it's up to you to help them realize things don't have to feel so hopeless. Make learning about the planet fun, educate them on why it's important to care for the earth, and serve as a positive role model in their lives when it comes to sustainability. Those simple actions will end up making a big difference in the lives of the children you care for, and an even bigger difference in the future of our planet. 
Katie Brenneman is a passionate writer specializing in lifestyle, mental health, education, and fitness-related content. When she isn't writing, you can find her with her nose buried in a book or hiking with her dog, Charlie.