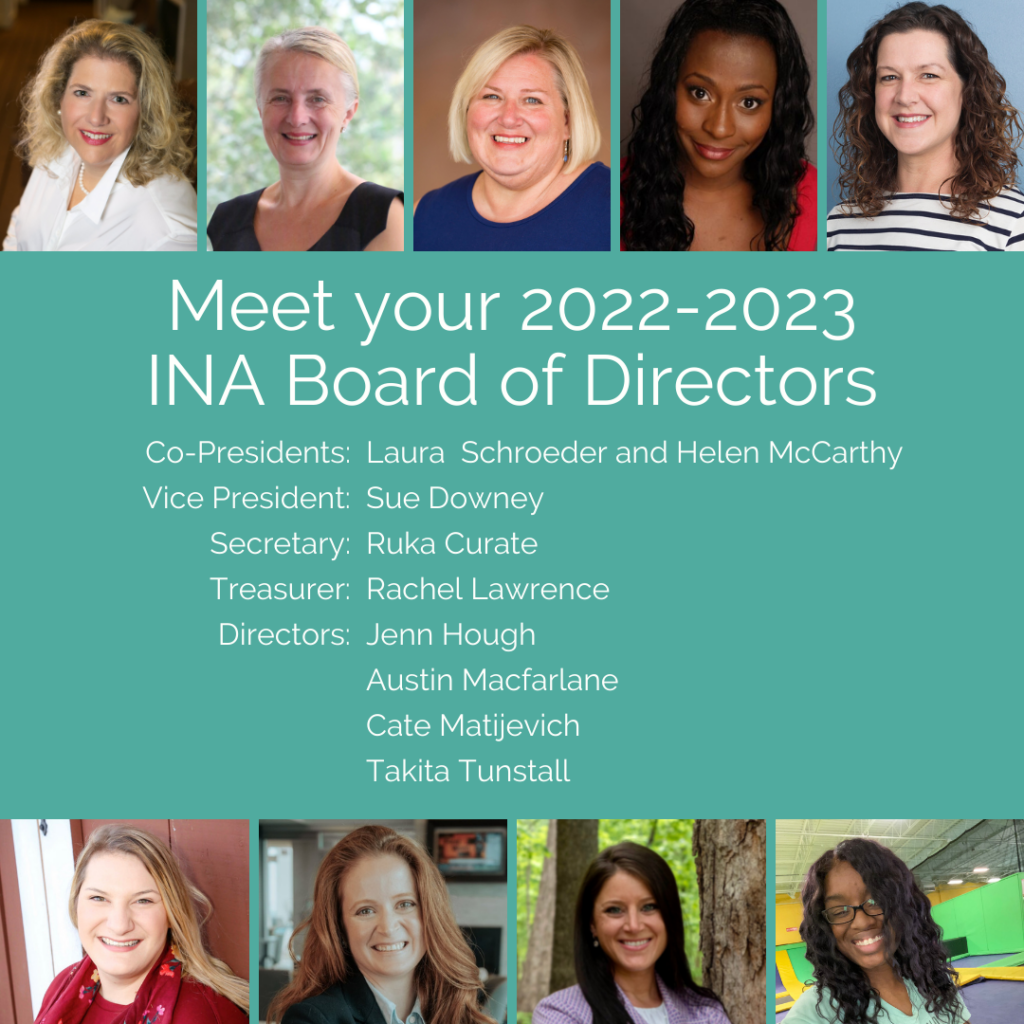 The new Board of Directors will be installed on July 31, 2022 virtually. You can register to attend this event HERE. 
Ruka Curate: Ruka is the woman behind Tiny Treasures Nanny Agency and she knows just how important having a connection is when pairing a nanny with a family. Finding the perfect fit not only gives parents peace of mind but provides a stable and enriched environment for children in the childminder's care. It is also very important that the childcare providers that she matches feel like they are valued and working with a great family. Ruka is a strong advocate of legal pay for nannies, educating her clients to understand protective classes and hire without discrimination. A nanny herself for over 14 years, now that Ruka is 'Mom' to a beautiful little girl, she has an even deeper understanding of how important it is to create these almost perfect matches. With insight on both sides, she has been successfully connecting families with nannies, mannies and babysitters for a very long time. When she is not playing matchmaker to parents and nannies in NYC, Ruka is always looking for more time to studying neuroscience at NYU's Center for Neuroscience and Hunter College Psychology Department. Her current area of study is adolescent and anxiety-related behaviors due to stress in females. 
Sue Downey: Sue is a nanny and has been since she accidentally found the profession 25 years ago. She started as a live-out nanny for 4 boys in Cincinnati, Ohio and then moved on to the Philadelphia area as a live-in nanny. She has stayed in the suburbs of Philly ever since. Since she tends to stay with families for longer contracts, Sue has also worked as a family assistant, helping families with remodeling, cooking, organization and more. In her spare time, Sue works on a few nanny projects such as the conference Nannypalooza, interNational Nanny Training Day and one of the founders of Our Nanny Diary. She has led workshops at the INA conference, NAEYC conference, Nannypalooza as well as local and regional gatherings. Sue's full-time job is caring for a family just outside Philadelphia, where she spends her days trying to not step on legos, playing dragons, and reading the same book over and over and over again and loving every minute of it all! 
Jennifer Hough: "Jenn" has over 8 years of nanny experience on the North Shore of Boston working with children from birth to 14 years of age. She specializes in caring for children with different developmental needs. Jenn holds a Bachelor's Degree in Exercise Science from Salem State University and is a passionate nanny advocate. Additionally, Jennifer is a Newborn Care Specialist, CPST, Fertility, Birth, and Postpartum Doula in training, and an active member of the local nanny community!
Rachel Lawrence: Rachel is a proud mother of three young children, including a set of twins, and has a solid 15-year foundation in the in-home childcare industry. She has worked as a nanny, a placement counselor, has operated her own boutique nanny placement agency, and as a working mom, she is also a nanny employer. Rachel has previously served as a Board of Directors member, and as the Operations Manager for the International Nanny Association.  She is now the Agency Partner Specialist at HomeWork Solutions; advising nannies, families, and agencies on HR, taxes, and the importance of legal pay. She is the founder of FairAndLegalPay.com, a coalition designed to raise awareness about the need for legal pay in the industry, and to empower individuals to educate others about why it is so important.
Austin Macfarlane: Austin is a dedicated, loving, passionate professional who really focuses on getting involved in projects she truly cares about. She lives by the saying "love what you do, and you'll never work a day in your life." Over the last 10 years she launched My Girl Friday in the Triangle area of North Carolina. Her team at My Girl Friday is close knit, loving, passionate about the betterment of the nanny industry, and they love finding amazing fits for both nannies and families. Helping create wonderful relationships is at the center of their focus. 
She and her partner also have a kombucha brewery out of Cary, North Carolina—Tribucha Kombucha. She and Adrian have worked together to raise sizable capital for the brewery and have put a huge emphasis on company culture, health, and wellness. In 2020, she helped launch the Nanny Relief Fund, which quickly raised almost $100,000 for nannies in need. She assisted with building out secure systems that allowed the team to get this money into the nanny community's hands as quickly, thoroughly, and fairly as possible. She loves working with this dynamic team and has developed a passion for the ins and outs of nonprofit life.  
In her spare time, she loves to hike, kayak, and be on the water in any capacity she can. She also has a love for traveling! She's a dog mom and enjoys spending time with Arlo, her pup. She loves to garden and cook with her veggies and herbs. She appreciates the meditative nature of cooking intricate meals and can oftentimes be found in the kitchen making amazing dishes from scratch. She loves learning from and connecting with other human beings. She's addicted to Audible and just recently jumped into Clubhouse!
Cate Matijevich: Cate Matijevich from Chicago, Illinois has worked in the domestic private service industry for over 15 years. Being a nanny and managing principal's homes is her passion and brings joy beyond what she ever thought was possible. Cate is an avid learner always seeking the best solutions for children and their families. She enjoys staying current with childrearing trends and ongoing professional development trainings. Continuing education is a priority for Cate and she currently attends Florida International University, pursuing her degree in Hospitality Management with a focus in HR and Leadership. Cate actively participates in events that support the nanny and greater domestic private service industry, including traveling internationally for conferences and events. Her desire to strengthen and grow industry relationships globally, is a proud goal. Cate also directs an Estate Management group that meets monthly to network and continue education. 
Recreationally, Cate loves to golf and spend time outdoors with her partner, John, and their three pups. Cate is proudly involved in her local community and volunteers with the village on ad hoc committees and serves as Secretary on her HOA board of directors. While Cate is always on-the-go, her peers will also say that she makes time for all things important to her, and fulfills her commitments with the utmost pride and diligence. 
Helen McCarthy: Helen is a Professional Qualified British Nanny (N.N.E.B) with over 28 years experience as a Nanny, NCS, Childcare Consultant and has worked in Europe, Asia, USA, UAE and the UK. Helen has devoted her career to the care of children at all stages of life, with all levels of needs. Over the course of the past 19 years, Helen has developed an exclusive focus on caring for new-borns. As one of the pre-eminent NCS's, she has amassed a deep understanding of the needs and development of newborns including premature infants, twins, triplets, and babies with allergies. 2015 saw Helen returning to nannying after attending Nannypalooza which inspired her to become a member of the INA. Helen was named INA 2016 Nanny of the year which saw her travel to Australia where she spoke at Nannypalooza OZ and being featured in the Financial Times Documentary on the new Upstairs Downstairs. Helen's passion for educating Nannies to the highest level has seen the launch of UK Nanny, Ltd., the only events company for Nannies. Helen has been an INA Member since 2015 and joined the Board in 2018. 
Laura Schroeder: Laura has been working with children for her entire career, but found her true calling as a nanny after giving birth to her own 3 precious children . Laura is an INA credentialed nanny currently  working with a HNW family in historic Charleston, SC.  She is certified in Connection Centered Discipline and is a Positive Discipline Parent Educator.  She has also taken Newborn Care Specialist and ABA training, and has been a long time member of NAEYC and NDWA..  Laura founded the popular Charleston Area Nanny Network with over 11.5k members in 2013 and is very active in the nanny community in her area to this day.  One of her greatest honors was being named a nominee for the 2017 INA Nanny of the Year.  Laura has been happily married to her best friend for 35 years and loves living near Folly Beach, SC.  She has been an INA member since 2014, an INA board member since 2017, and has served as INA President since March, 2019.
Takita Tunstall: Takita has been a Nanny since 2018 and Babysitter since she was 15 years old in Baltimore, MD. Not forgetting to mention being the eldest of 6 and a mom of two, she has also worked as a school teacher and at a children's hospital; both of which allowed her the opportunity to network with the Autism community. Currently, in addition to balancing being a Mom and a Nanny, Takita also owns and operates her own Nanny Agency. Clearly she is no stranger to hard work; not even in back when she worked in retail for nearly 10 years! From Retail to Business Owner! Takita has quite the adventurous tale to share with the world about her journey and we are definitely looking forward to hearing it once she finds the right platform to share it on.