The INA has introduced our five 2022 INA Nanny of the Year™ Finalists over the last few days on social media. If you have not had a chance to get to know them, we invite you to meet them now. Here they are in reverse alphabetical order.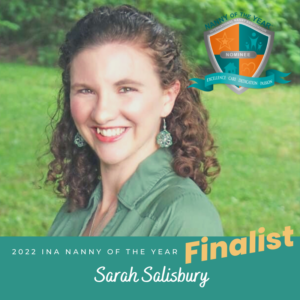 Sarah Salisbury has worked with children in some capacity since she was 10 years old and she's loved every moment of it! There was never a question as to whether or not Sarah would work with children someday, the question was HOW. 
When Sarah walked into her first nanny job 16 years ago, she wasn't completely sure what to expect, but she soon fell in love with the job. The children from that first nanny job are now in college and still remember the fun times they had with Sarah! What Sarah loves the most about being a nanny, besides working with the children, is the opportunity to help other nannies grow in their careers! Whether it's doing a presentation for a nanny conference, contributing to discussions or sharing ideas, she loves it!
Sarah counts herself as incredibly lucky and blessed to be in a career that she loves. She also counts herself lucky to have so many amazing mentors and wonderful friends in the nanny community, without their support Sarah wouldn't be the nanny she is.
Sarah currently lives in Syracuse, NY with her wonderfully supportive and patient husband, their incredible daughter, a sweet dog and two very naughty, but cute cats. She loves hiking, genealogy, photography, obstacle course runs and cheering her husband and daughter on at karate!
---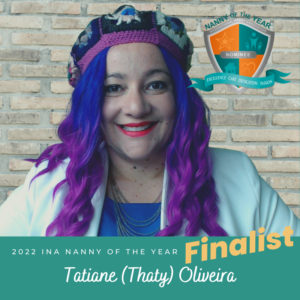 Thaty Oliveira, MEd, MM, is a renowned educator who has received several awards for her work in the nanny industry. She holds numerous credentials, the most recent being the Certificate in Early Education Leadership program at the Harvard Graduate School of Education. Thaty has been interviewed by The Conversation on BBC, Boston Globe, NY Times, recognized by The City of Cambridge, both the Boston and the National Association for the Education of the Young Child, The Brazilian Community Heritage Foundation, just to name a few. 
As a professional career nanny of nearly two decades, Thaty is passionate and dedicated to not just the littles under her care but also the families she serves. She loves preparing, guiding, and supporting parents in the exciting journey of raising incredible children and the opportunity and honor to be part of that journey. Thaty's favorite thing about working as a nanny is seeing and experiencing the world for the first time, many times, through the eyes of different children she gets to spend her days with. Even after officially becoming an entrepreneur, launching her teaching and consulting business a few years ago, Thaty makes it clear she has no desire to stop nannying for the foreseeable future.
A fierce, well-known advocate, leader, and pillar in the industry, Thaty's engagement is deep and broad. She's involved in numerous projects providing support and professional development for nannies around the globe while also actively exercising her civic duties by engaging in conversations with elected officials about policies that impact childcare and the domestic work industry.
---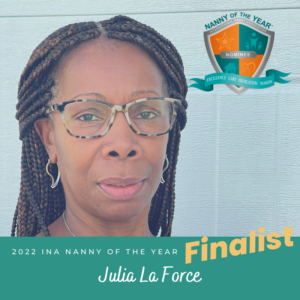 Julia La Force is a native of St. Lucia in the Caribbean. She lives in Atlanta, Georgia, and has been a professional nanny since 1999. A member of the International Nanny Association, she has earned degrees from schools including Sir Arthur Lewis Community College, St. Lucia (Associate's Degree, Secretarial Studies, 1984), and New York City College of Technology, City University of New York (Teacher Assistant Certificate, 2007, with 60-hour internship at First Impressions Nursery School in Brooklyn). She has current CPR certification (American Red Cross) and a Nurturing Achievement certificate from the Nanny Stella CACHE's Professional Nanny Program (2017). Her continuing education has included coursework in New Mother and Well Infant Care (New York's Baby Nurse Club) and Brachycephaly and Plagiocephaly and Foundational Training (both at Newborn Care Solutions). Julia is known for her patience, loving attentiveness, long standing relationships with employers and their children, resourcefulness, and confidence in navigating new neighborhoods and challenges. She enjoys teaching children reasoning skills, which she describes as a tool for improving cognitive development and creating opportunities for being adept at learning throughout their lives. Among her hobbies are cooking, playing tennis, hiking and traveling.
---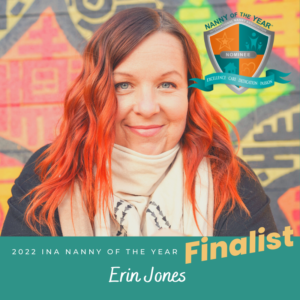 Erin Jones is an intuitive, compassionate, and creative domestic professional with over 30 years of experience. She prides herself on her intrinsic qualities of consistency, cognition, and reliability. Her care for children and families is holistic and nurturing. Erin models open communication and transparency, and seeks out those who value her expertise. She provides her families with timely and developmentally appropriate information and uses a team approach to create well-rounded decisions. 
Both calm and confident under pressure, Erin uses her wisdom to assess and manage the emotional and physical well-being of children in her care. She has handled the unprecedented challenges of the pandemic with grace by continuing to provide safe socialization and educational opportunities. Finding continued education to be invaluable, Erin stays up to date with current innovations. Erin is a true professional and believes that her calling is to nurture and care for children.
---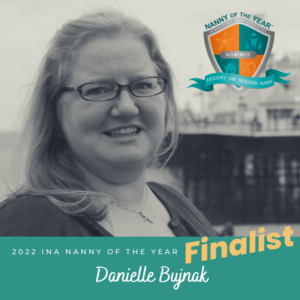 Danielle Bunjak has felt an abiding and passionate interest in younger children starting in her earliest years. She absorbed a focus of educational care from her parents' AMI Montessori preschool into her own approach with babies and children, and she delights in uniting complementary principles from diverse sources to create a completely individualized, bespoke approach for each and every infant and child in her care. 
Danielle's approach as a nanny combines her understanding of the neuroscience of child development with extensive experience in classic pedagogies including Montessori, Waldorf®/Steiner, Reggio Emilia and Pikler®/RIE®. She has undergraduate and graduate level training in early childhood education and care and received her Master Teacher and Site Supervisor designations for ages birth to 8 years in the state of California. Additionally, she is a licensed Emergency Medical Technician with specialized pediatric emergency training from the American Academy of Pediatrics. She also wrote and teaches the Introductory and Advanced Courses in Respectful Care™ for nannies and newborn care specialists. 
To Danielle, every child is perfect, and she considers it her exciting job to identify the best strategies and approaches to match the family's needs & preferences, and then create harmonious, effective and respectful routines to support each child's unique and personal path of healthy development within their family. She is passionately committed to supporting families by providing energetic, top-notch educational and developmentally appropriate care, with an ultra-professional level of integrity, discretion and confidentiality assured.